Declan Donnelly backs protest over NI gold mine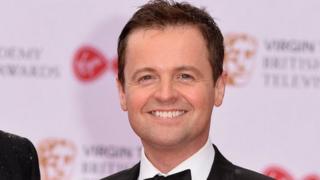 Declan Donnelly has thrown his support behind a campaign to stop a gold mine being set up in Northern Ireland.
The TV star, one half of duo Ant and Dec, said on Twitter it would be a "travesty" if a mine was built near Slieve Gallion, a mountain in County Londonderry.
Donnelly said it was a "magical area where my paternal family has lived for hundreds of years and still resides".
He added that he had "laid stones" at the mountain's summit.
His comments came after a campaign group, Protect Slieve Gallion, asked him to tweet his support for their opposition to the mine.
"Thanks Declan. We will have a big fight on our hands here. Good to know we have you in our corner!" the group tweeted in reply.
Australian mining firm Walkabout Resources, in a joint venture with UK firm Koza, is exploring the possibility of setting up a mine in the area near Magherafelt.
In February, the company's executive chairman, Trevor Benson, said there had been "very exciting" finds in a geological review.
But locals have expressed concern about the plans and a petition set up to oppose a mine has attracted more than 1,600 signatures.
The petition page said mining in the area "can only be seen as a short-term gain for foreign investors which will inevitably change the lives of our future generations".
"The current Brexit debacle and continued political impasse in Stormont makes this all the more difficult and daunting.
"We the people need to be the driving force behind this."
Gold mining in Northern Ireland has been a controversial subject in recent years.
In 2017, Canadian firm Dalradian submitted a planning application for a gold mine in County Tyrone, about 12 miles (20km) from Slieve Gallion.
The company said the area is "one of the best gold projects on the planet" and that the area is said to hold $4bn (£3bn) worth of deposits.
Environmental groups have vowed to fight the application over air and water pollution concerns.