NI Paper Review: Stalled stadium and a bombing victim's shock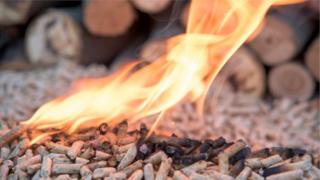 All of Northern Ireland's main newspapers lead with different stories.
The Belfast Telegraph reports that fewer than one in 10 of the boilers on the Renewable Heat Incentive (RHI) scheme have been inspected to date.
It is almost 14 months after a system of formal checks was announced by the Department for the Economy.
As the public inquiry into the flawed green scheme debacle continues this week, it has emerged only 190 of more than 2,000 boilers have been inspected.
Between 10 and 15 boilers are being inspected weekly, but the department has refused to outline the cost.
SDLP MLA John Dallat, the former deputy chair of Stormont's public accounts committee, said: "Given the revelations of the RHI Inquiry, I think the public will be absolutely disgusted."
'Tricked into sitting alongside an IRA bomber'
In the News Letter, a man whose son was killed in an IRA bomb has said he "was tricked" into sitting on a victims' body with a convicted republican bomber.
Jackie Nicholl's baby son Colin died in an IRA bombing on the Shankill Road in Belfast in December 1971.
He spoke of his shock at discovering that a fellow member of the Victims and Survivors Forum, Robert McClenaghan, had planted bombs for the IRA.
"To think that my son, my beloved son, was killed by an IRA bomb and I had been tricked into sitting alongside an IRA bomber," said Mr Nicholl, who resigned from the forum in protest.
"I had sympathised with (McClenaghan) about his grandfather being killed (in the McGurk's bar bombing) but lost all sympathy when I heard he had turned to bombing himself.
"We never turned to violence. I became a trade unionist, working for everyone."
Two stories share the front page of The Irish News.
Sports projects stalled
Despite more than £60 million of public money being set aside for the redevelopment of Casement Park in west Belfast, the project will only go ahead if devolution returns.
The plans, which have been beset by delays and legal challenges, will not proceed in the absence of ministers, the permanent secretary at the Department for Communities has said.
A sub-regional stadium programme for soccer worth £36m has also been stalled.
Leo O'Reilly has written to SDLP MLA Justin McNulty to say that both projects "are not being progressed in the absence of ministers".
Meanwhile, the paper reports the daughters of a man shot dead on Bloody Sunday are due to give evidence on Monday on how the killing has "shattered" their lives.
Gerry McKinney, 35, was shot in Glenfada Park in Derry on 30 January 1972.
His wife, 80-year-old Ita, is among a group of relatives who have taken a compensation case against the Ministry of Defence.
Too ill to travel to Belfast, she will be represented by her daughters Regina and Martina at the High Court in Belfast.
Ferghal Shiels, the family's solicitor, said the pair would now have to be subjected to cross-examination about their father's murder and added: "The only party who can emerge from these proceedings with any credit and dignity will be the McKinney family."
Last week £193,000 was awarded to Michael Quinn, who survived being shot in the face by soldiers on Bloody Sunday.
Police memorial
The News Letter, along with all the main newspapers, also features a report on the UK-wide National Police Memorial Day, which was held at the Waterfront Hall in Belfast on Sunday.
The names of officers who have died in the past 12 months were read aloud at the service, while a wreath was laid to mark the centenary of the end of World War One and to recall police officers who died during the war.
The brother and sister of RUC Constable Michael Ferguson, killed by the IRA in 1993, lit a candle in his memory.
A prayer was read by Pearl Marshall, whose son Michael Frederick Leslie Marshall was murdered by the IRA in 1989.
'Paws in the pews'
On a lighter note, the front page photograph in The Belfast Telegraph shows Ruby the labrador with owners Clayre Thompson and Johnny Graham, at the second annual pets' service at St Anne's Cathedral in Belfast.
Inside the paper Ms Thompson, who is recovering from breast cancer, said Ruby had been a loyal and devoted companion throughout her treatment.
"Throughout my treatment she's been a constant by my side and helped so much with things like getting me out talking to people or just by lying with me in bed."
The paper reports that Ruby has her own social media account on Instagram, described as the "new must-have for modern dogs".
Around 100 people attended the Paws in the Pews event, with even the choirmaster and church organist keeping their dogs beside them throughout proceedings.
'Soul destroying'
In the Daily Mirror, the application process for the Personal Independence Payment (PIP) is criticised as "soul destroying" by a man with a rare and incurable genetic condition.
Dermot Devlin, 38, who was a recipient of DLA since childhood, said the assessment has "sucked the life" out of him.
"I try to put out a positive image of myself but the test really makes you look at yourself and think what is the worst thing about you," Mr Devlin said.
Elsewhere in the paper, a County Down woman who has survived breast cancer calls on the public to back the battle against the disease.
Claire Rocks has raised £35,000 for charity after setting up a blog with moving posts and videos to describe her struggle.
Urging people to back Stand Up To Cancer, Ms Rocks said: "Whether you donate or organise your own bake sale or whatever, there are lots of ways to get involved...together we can wipe the floor with cancer."