Denis Donaldson: Family appeal for MI5 agent's diary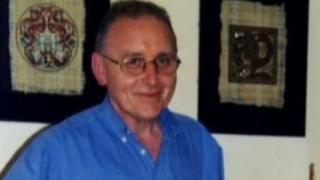 The family of MI5 agent Denis Donaldson have written to the head of the Irish police asking for the return of a journal they believe could hold clues about his death.
The former Sinn Féin official was shot dead in 2006.
The murder, which was claimed by the Real IRA, came months after he was exposed as an agent who had worked for the police and MI5 for 20 years.
His family say he was writing the journal in the weeks before his death.
They believe its contents could aid a police ombudsman inquiry into allegations that PSNI officers contributed to his death.
Last year they asked the police ombudsman, Dr Michael Maguire, to take legal action to force the Gardaí to give him access to the journal.
However, no action was been taken and its contents were not shared with Dr Maguire's investigators.
'Unwarranted emotional distress'
A solicitor acting for the family has written to Garda Commissioner Drew Harris asking him to authorise its return.
Irish police submitted a file on the murder to the director of public prosecutions in the Republic of Ireland in July 2017.
In the letter, Ciaran Shiels points out that the Gardaí have completed their investigation and told the family the journal "is of no evidential value".
"The Donaldson family have been very consistent in their belief that Denis journal may be of significant investigative value to that PONI (Police Ombudsman for Northern Ireland) inquiry," the letter adds.
"There are no reasons of criminal procedure for continuing to withhold Denis' journal.
"Furthermore, there is a strong and compelling criminal justice reason for returning Denis' journal in order to assist the PONI inquiry."
Asking Commissioner Harris to make arrangements for the journal, Ciaran Shiels says a failure to do so would result in "additional and unwarranted emotional distress to the Donaldson family".
An inquest into the killing, which was claimed by the dissident republican group the Real IRA, was adjourned for the 22nd time earlier this week.