Ex-IRA man O'Rawe pens Northern Bank heist novel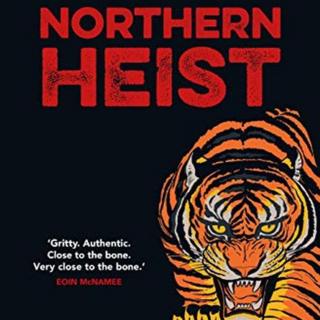 A former IRA man who was jailed for robbing a bank has written a novel about the 2004 Northern Bank heist, which was blamed on the IRA.
Four days before Christmas 2004, a gang stole £26.5m from the Belfast city centre Northern Bank branch.
They took two families hostage in Belfast and County Down, forcing two bank employees to bring the money to them.
Richard O'Rawe's debut novel Northern Heist is loosely based on the robbery.
The story is told in the words of "Ructions O'Hare", who is described as "no small-time, two-bit thief".
---
Listen to the author
You can hear more from Richard O'Rawe on BBC Radio Ulster's Talkback programme at 12:40 BST.
---
"When Ructions put together a crack team to rob the National Bank in Belfast in November 2004, even he didn't realise he was about to carry off one of the biggest bank heists in British and Irish history," says the blurb for the book.
"And he'll be damned if the Provos are getting a slice of it."
Only one person has been convicted in connection to the Northern Bank raid - for money laundering - and the case remains unsolved.
The Police Service of Northern Ireland (PSNI) and the British and Irish governments all said that the Provisional Irish Republican Army (IRA) was responsible, although the group denied it.
"Do I think the IRA did it? Yes," said Mr O'Rawe told the BBC's Talkback programme.
"I don't think any other organisation out there was capable of it".
'Superyachts'
Presenter William Crawley started the interview by asking the author what he had done with the money.
"Well, the island that I bought in the Indian Ocean was quite expensive," Mr O'Rawe joked.
"You've no idea how much superyachts are these days and those tedious round-the-world cruises."
He told the programme the Northern Bank robbery was just one of several so-called tiger kidnappings - where employees are essentially forced to rob their own banks - which influenced his novel.
Criminal past
The former IRA bank robber was asked how much of the book was true.
"Very little of it," he replied.
"It all came out of my mind. I had to sit and construct this whole thing, how they got rid of the vehicles and everything else."
He added: "Ructions O'Hare planned this, so I had to be Ructions O'Hare and I had to try and think like Ructions O'Hare - how I am going to pull this off?"
The author denied that he was profiting from his criminal past.
"There's no real money in writing books," he said, explaining that he was still owed money from his last book about Guildford Four member Gerry Conlon, a childhood friend.
Richard O'Rawe was the IRA's second-in-command in the Maze Prison at the time of the 1981 Hunger Strikes.
In 2005 he alleged in Blanketmen - his book on his time as a prisoner - that the IRA leadership allowed some hunger strikers to die despite there being a considerable offer on the table from the British government.
This claim was denied by Sinn Féin.
Mr O'Rawe told Talkback that although he would not now describe himself as a friend of Gerry Adams, he felt "no great animosity" towards the former Sinn Féin leader.
"Gerry Adams, in my view, was one of the principal architects of the peace process," he said.
"He brought us out of armed struggle... along with John Hume, and he should be commended for that, absolutely."