How recycling can help save ratepayers' money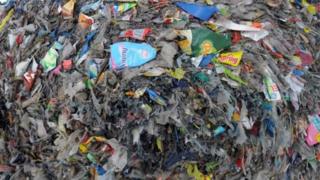 Where does your recycled waste end up?
Do you even care?
One council in Northern Ireland says it has saved more than £1m in recent years thanks to recycling.
That's money Ards and North Down Council has been able to reinvest elsewhere.
If waste isn't recycled properly, it ends up in landfill, and that is expensive for the ratepayer, says Clive Catterson, the council's waste recycling and minimisation officer.
Steady decline
"Disposal of waste in landfill is £100 a tonne," he tells BBC News NI.
"If people use the recycling bins correctly, we can save the ratepayers in the borough a lot of money."
Composting food waste costs £50 a tonne, says Mr Catterson.
"For some of the other materials - like some of the metals and plastics and paper - there is actually a value and the council will get some of that value back again, which can be reinvested in services."
The landfill rate in Northern Ireland has seen a steady decline over the last decade, standing at 34.5% for the first three months of 2018.
That compares with 76.5% in the same period in 2007.
But for householders, getting the right things in the right bin can at times be a difficult job, made even more confusing by the fact that different councils have different rules.
In Newtownards, you are able to put paper, card, metals, clean foil and household plastics into the recycling bin - the blue bin.
But before each bin is tipped inside the lorry, it's quickly checked.
Some bins make the grade, but others end up having a big yellow sticker slapped on the outside, which means they won't be emptied this week.
In these cases, there are just too many contaminated items inside, Mr Catterson says.
He takes the opportunity to speak to some of the homeowners about what they're doing wrong and why it is important to do it right.
The next stop in the journey for the blue bin waste from Ards and North Down is the recycling facility in Mallusk.
Despite what the name suggests, no actual recycling goes on here.
All of the material from the bins is put on a conveyer belt and sorted by hand.
Eric Randall, the director of Bryson Recycling, says one of the worst items they get are dirty nappies - which can't be recycled.
He is also insistent that nearly all the material that comes into the yard is sold into the UK markets.
"There are lots of bad stories out there," Mr Randall says.
"We can honestly stand over what we do, hand on heart and say, that the stuff we receive, the stuff that we collect, goes to a good use.
"It's reprocessed - a lot in Northern Ireland. It creates jobs here. It's great for the economy.
"It's a raw material and we have to get the best use of it for Northern Ireland, and that's what we're doing."
A business very glad of the recycled plastics is Cherry Pipes, in Lurgan, County Armagh.
They use it to make storm water drainage pipes made entirely from recycled material.
Stefan Cherry from the company says they can't get enough of these recycled plastics locally, and have to go as far as Eastern Europe to get what they need.
He says people need to understand the work that goes into that bottle after it leaves their home.
"It's not the stigma that it's going to end up in a hole in China," he says.
"That's not the case. There's a lot of investment and plant and jobs and economy that evolves around that waste.
"It's no longer waste, it's a commodity item, a much sought after commodity, and it's needed for manufacturing purposes close to home."
Well they do say one man's trash is another man's treasure.
Perhaps there's a bit of truth in that after all.
You can see the full report on Friday's BBC Newsline .