1,000 new jobs for Newry based firm First Derivatives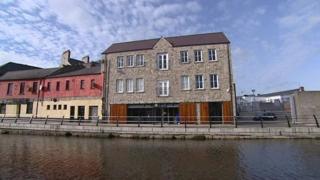 First Derivatives, the Newry-based technology firm, is planning to recruit 1,000 additional staff over the next three years.
The company already employs 2,400 people across its Northern Ireland headquarters and global operations.
It has been growing rapidly, with employee numbers increasing at an average annual rate of 31% over the past three years.
First Derivatives specialises in financial analysis software.
New markets
The company is also expanding into new markets.
Brian Conlon, the chief executive, said the expansion "reflects the strong growth and development of the company".
"We have a highly skilled and accomplished team, and we look forward to bringing on more talent," he said.
Adrian Toner, the company's chief operating officer, said that the recruitment would be global but the vast majority of the jobs will be based in Belfast, Newry and Dublin.
He said the company had opened new offices in Belfast and would be opening another premises in Newry that can hold 200 employees.
Mr Toner added: "We've already recruited in the last three months in excess of 150 jobs, so because of that demand we see coming down the pipeline in terms of our products and services, that gives us the confidence that we can make this announcement today."
The new jobs will be across the company's operations.
Last year the firm, which is valued at more than £1bn, made pre-tax profits of £12.1m on revenues of £186m.