RHI inquiry: Claims ex-DUP adviser 'used green scheme fraudulently'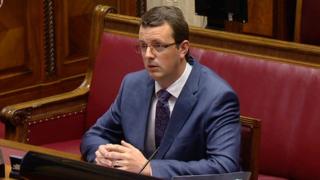 Two complaints were made about an ex-DUP adviser, alleging he was fraudulently using NI's flawed green energy scheme, an inquiry has heard.
Stephen Brimstone is appearing at the inquiry into the Renewable Heat Incentive (RHI) scheme.
It was set up in 2012 to encourage uptake of eco-friendly heat systems, but overgenerous fuel subsidies left NI taxpayers with a £490m bill.
Energy authorities determined Mr Brimstone had acted within the rules.
He applied to the scheme in August 2015, when he was an adviser to a DUP junior minister, but later went on to advise Arlene Foster when she was first minister.
Mr Brimstone installed an RHI boiler which heated a large shed and his home, replacing an old heating system, in order to be eligible for the lucrative subsidy that the scheme offered.
On Thursday, the inquiry heard that in May 2016, an anonymous complainant alleged that Mr Brimstone was involved in a "total fraud" by claiming from the scheme.
'Mansion house'
It claimed Mr Brimstone was using a boiler on the non-domestic scheme to heat his home, something that is not allowed under the regulations.
The complainant contacted the Office of Gas and Electricity Markets (Ofgem) - the scheme's administrator - and said: "The shed is no more agricultural than he is.
"He's using the pellet boiler to heat his mansion house at the taxpayer's expense."
The complainant asked Ofgem to investigate and "report to the taxpayers".
Ofgem suspended Mr Brimstone's payments while it carried out an audit, and found that he had complied with the scheme's rules.
But it found "limited evidence" that the shed was being used for agricultural use, and that the basis for his application to the non-domestic scheme was "weak".
'Public duty'
Ofgem wrote to Mr Brimstone and after information he provided to them about issues raised in the auditor's report, it accepted that his installation was compliant.
A second anonymous complaint about his boiler was made in October 2016, and passed in a note to the Traditional Unionist Voice (TUV) assembly member Jim Allister.
The inquiry said Mr Allister regarded it as his "public duty" to pass on the allegations.
He sent it to the Police Service of Northern Ireland (PSNI), the Northern Ireland Audit Office (NIAO), Stormont's economy department and Ofgem.
Mr Brimstone said he became aware of the first complaint in October 2016, but only heard about the second one this week.
It is not clear if the two complaints were made by the same person, the inquiry was told.
In late 2016, Mr Brimstone left his role as a DUP adviser - at that time he had been advising Arlene Foster in the first minister's office.
'Nothing untoward'
On Thursday, Mr Brimstone told the inquiry the complaints had nothing to do with his decision to resign.
He said by then he had a letter from Ofgem confirming that his installation was compliant.
He was content there was "nothing untoward" and he had already outlined his plans to move on and take up other opportunities, he added.
In January 2017, Mr Brimstone was named by TUV leader Jim Allister in the Northern Ireland Assembly as someone who was involved in a "rip-off" of the RHI scheme.
Mr Brimstone said he was going to speak at a church meeting when he got a call about the debate.
The next morning, the Belfast Telegraph newspaper ran the allegations on the front page under the headline "Former DUP Aide Ripped Off RHI".
Also in late January 2017, the Irish News ran a story revealing Mr Brimstone's installation had been investigated by the police.
Mr Aiken asked if it had come as a "shock" to the former adviser that his boiler had become a police matter, to which Mr Brimstone replied: "Absolutely."
The PSNI found that "no crime had been committed", the inquiry heard.
'Genuineness'
Later, the chairman of the inquiry suggested Mr Brimstone's decision not to step aside from top-level DUP discussions about RHI, could have lessened the "genuineness" of his admission to then First Minister Arlene Foster that he was a claimant.
Mr Brimstone said he told Mrs Foster he was on the scheme when she became first minister in January 2016.
But he said he could not "hand on heart" say he told her he was involved in discussions in summer 2015, with other DUP advisers about plans to bring in cost controls to the scheme.
On Wednesday, Mr Brimstone told the inquiry he "thoroughly regrets" not stepping aside while those conversations were taking place, and that he wished he had never come across the scheme.
He also continued to receive documents about the RHI scheme's proposed closure, after he made Mrs Foster aware of his link to it.
He told the inquiry he had "no explanation" for not stepping aside from those discussions, but said he had not responded to any of the emails.
He also said he thought he told Timothy Johnston - another adviser to Mrs Foster - that he was on the scheme as they were "close friends..and it probably came up".
Sir Patrick Coghlin said: "You tell the first minister you have an interest, but having done that you then continue to be involved - that can play back on the genuineness of your declaration."
Mr Brimstone shook his head in disagreement, but Sir Patrick continued that it created a perceived conflict of interest.
"You told Mrs Foster, you told Mr Johnston - and none of the three of you have a discussion about the need to do something formally and withdraw."
Mr Brimstone has been in the public eye before: he was an aide to former social development minister Nelson McCausland, during which time he became entangled in a housing maintenance scandal.
On Friday, the inquiry will hear evidence from Timothy Johnston, who is now the DUP's chief executive.