DLA benefits cut or stopped in almost half of cases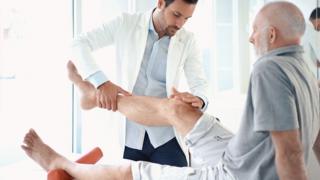 More than 40% of Disability Living Allowance (DLA) claimants in Northern Ireland had their benefit cut or stopped when they were reassessed for Personal Independence Payment (PIP).
PIP benefit is replacing DLA as part of a wider reform of UK social welfare.
New figures from the Department for Communities show that just over 72,000 claimants were reassessed between June 2016 and May 2018.
Of those 24% had their payment stopped and 19% had it reduced.
A further 38% had their award increased and for 18% of claimants it was left unchanged.
Among DLA claimants with epilepsy, almost half did not qualify for a PIP payment.
Among DLA claimants with a learning difficulty, more than half had their payment increased when they moved to PIP.
A UUP councillor said assessments for terminally ill people were "heartless".
The system requires people with a life expectancy of longer than six months to undertake a face-to-face assessment to prove they are terminally ill.
Councillor Robert Foster said there was "no dignity, empathy or any degree of humanity applied to people with a terminal illness with life expectancy over six months".
One single mother with stage four cancer has expressed shock at being denied disability benefits.
PIP is harder to get than DLA because it places less importance on the diagnosis, focusing instead on how well patients can function on a day-to-day basis.
What is PIP?
PIP benefit is replacing Disability Living Allowance (DLA) as part of a wider reform of UK welfare for people aged between 16-64.
The payment is made to those who have a disability or long-term illness, with the amount based on how the condition impacts someone's life.
The weekly rate for the daily living part of PIP ranges from £57.30 to £85.60, while those given the mobility part can take home between £22.65 and £59.75 more.
The reassessment process is Northern Ireland is expected to be completed by April 2019.
Kevin Higgins from Advice NI said PIP was the single biggest area of work for advisors.
"People are very daunted by the process and very often these are already vulnerable people with significant health problems and illnesses," he said.
"We try our best to help them through. People are relying on this benefit to make ends meet.
"It's an incredibly important benefit. When they apply and get turned down it can have devastating impact on households.
Mr Higgins said he had some sympathies for decision makers.
"All they can do is look at the report and essentially the decision relies on that," he said.
"In our view the starting point is the assessment process - it's about getting it right and the correct medical evidence which will lead to a proper correct decision."
Help and advice is available from the independent Welfare Changes Helpline on 0808 802 0020.