NI weekly newspapers: Naked intruder and a mystery gun attack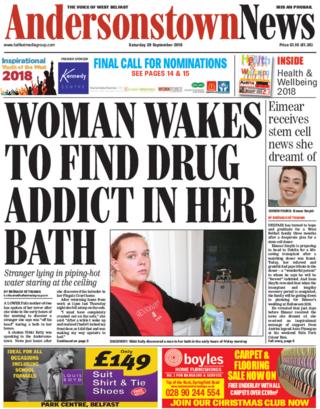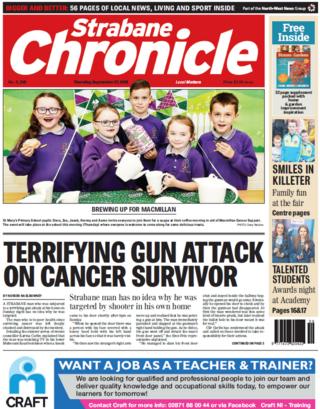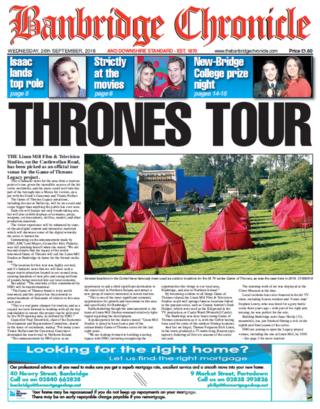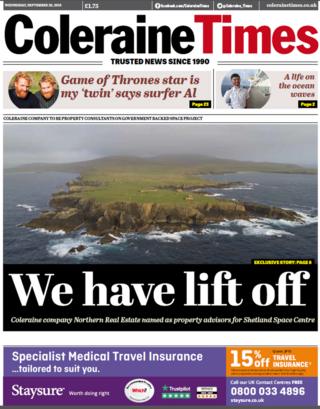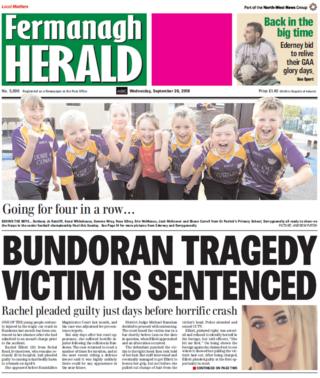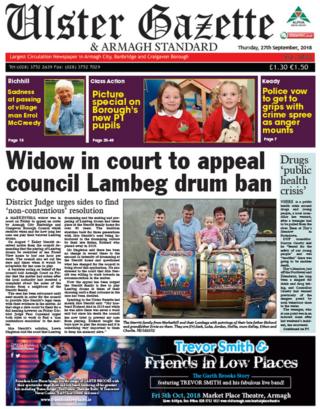 A woman who woke up to find a stranger splashing about in her bathtub, and a cancer survivor who opened the door to a masked gunman are among the more dramatic tales in this week's papers.
The naked intruder struck at the home of west Belfast woman Nikki Kelly, as her two young children were in bed.
She tells the Andersonstown News she had forgotten to lock her front door after coming home from work.
She was woken in the early hours by her stepfather, who told her there was a strange man having a soak in their bathroom.
The cheeky bather failed to make a clean getaway however, as the family fled to their granny's home nearby and called the police.
"I thought she was mistaken, I mean who would come into your home and run themselves a bath?" Ms Kelly's mother asks the paper.
The family said officers removed the naked intruder and told them he was a user of the nearby Welcome Organisation, which assists homeless people.
Police also told them the man had a contagious disease.
The problem of homelessness also features in the inside pages, as the paper meets two west Belfast schoolgirls whose random act of kindness has "gone viral online".
Two pupils from St Dominic's Grammar were photographed by a passerby as they brought food and a hot drink to a man sleeping rough outside their school.
The photographer posted his picture on social media, where it has been shared thousands of times.
"You never know what could happen, that could be you or someone you know in a few years' time, so do unto others what you would like done unto you," one of the big-hearted students tells the paper.
In County Tyrone, a cancer survivor narrowly escaped being shot as he wrestled with a masked gunman on the doorstep of his Strabane home.
The victim was watching TV when the suspect knocked on his door in Melmount Road on Sunday night and pointed the weapon at him, according to the Strabane Chronicle.
'Sign from God'
Sinn Féin councillor Karina Carlin tells the paper the gun went off when the householder "panicked and slapped at the gunman's right hand, holding the gun".
She said the bullet lodged in the householder's front door, but he has no idea why he was targeted.
Inside, the paper speaks to a church minister who says it was a sign from God that no-one was injured when a lorry mounted a pavement and crashed into a wall outside his home.
Reverend Jonathan McFarland was one of the first on the scene of the collision in Sion Mills last week, footage of which has been widely shared online.
"I think this is a perfect example of God's mercy and it is a miracle you are not reporting multiple tragedies," the minister tells the paper.
"It's either you or the dog", is the stark choice faced by many tenants in the private rented sector, according to this week's Banbridge Chronicle.
It speaks to tenants, animal charities and estate agents about the "widespread dog ban" enforced by many landlords.
Gillian McFadden, who runs the Doghouse Sanctuary outside Banbridge, tells the paper that about 70% of calls they receive are from people facing eviction over their pets.
"I have people ringing me in distress because their are not allowed to keep their pets and they are devastated," she says.
'Game of Clones'
On the front page, fantasy has come true for Banbridge's tourist industry as a local TV studio is chosen as a central location for a major new visitor attraction.
Many scenes from the hit TV series Game of Thrones were filmed at Linen Mill Studios on the town's Castlewellan Road over the past eight years.
Now, US TV giant HBO is to create a formal tour of the studio, where fans can visit the sets and learn about how the show was made.
The mayor of Armagh, Banbridge and Craigavon says her council is "beyond ecstatic" and believes the project will contribute "millions" to the local economy.
It is more a case of a Game of Clones in the Coleraine Times, as fans of the TV show have been seeing double on the north coast.
It reports on how a local surfer's utterly uncanny resemblance to one of the stars of the show has led to him being mistaken for the actor, and later playing his stunt double.
Portrush surfer Al Mennie is a dead ringer for Norwegian star Kristofer Hivju, who plays a Wildlings leader in Game of Thrones.
Their likeness was noticed by the actor's wife, a TV producer, who then asked the surfer to become a stunt double in Hivju's latest project.
The Norwegian TV drama is appropriately entitled 'Twins'.
The Times leads with a Coleraine property company's links to plans to build a space centre on the Shetland Islands.
The firm, Northern Real Estate, is to act as property consultants for the £40m project, which has received backing from the government.
'Unsuitable roads'
The Fermanagh Herald reports on a rubbish service endured by residents in rural parts of Rosslea.
They have been told that brown bin lorries, which collect garden and food waste, cannot reach several homes due to "unsuitable roads".
As a result, a numbers of households have not yet received their brown bins, a year after they were introduced to the area.
Fermanagh and Omagh District Council tells the paper it is tendering for additional vehicles which will be able to collect food waste on rural roads.
It says it also hopes to deliver food caddies to the affected residents from early next year.
The paper leads with an update on a woman seriously injured in a fatal crash in County Donegal which claimed the lives of two of her friends.
Just days before Rachel Elliot sustained "life-changing injuries" in the collision, she pleaded guilty to an unconnected assault on a woman in a pub.
The paper says Ms Elliot, who remains in hospital, was sentenced in her absence to five months in jail, suspended for two years.
A County Armagh sculptor who made a significant contribution to modern medicine has been honoured in her hometown of Portadown this week.
Anne Crawford Acheson has been credited with inventing and developing the plaster cast technique during World War One, according to the Ulster Gazette and Armagh Standard.
It says the sculptor suggested making plaster casts of broken limbs after witnessing injured WW1 soldiers being treated with bandaged wooden splits.
A blue plaque commemorating the unsung pioneer's achievements has been unveiled at the church she attended in Bridge Street.
The Gazette leads with its continuing coverage of a noise dispute over Lambeg drums, involving the widow of renowned drum maker, Richard Sterritt.
After one of her neighbours complained, Kelley Sterritt was slapped with a council order restricting the times at which her sons can play the huge drums at their Markethill home.
The paper reports that Mrs Sterritt has gone to court to appeal the order, where a judge urged both sides to find a "non-contentious" resolution.
He adjourned the case until October, meaning the Sterritt family are free to bang their drums whenever they like until the case returns to court.