Ex-minister told lies over flawed green scheme, says DUP head of press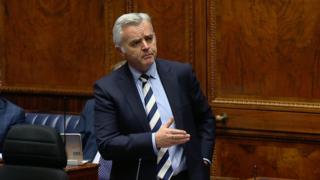 The DUP's director of communications has accused a former ministerial colleague of telling lies about the handling of Northern Ireland's flawed green energy scheme.
John Robinson made the claim about ex-DUP Enterprise Minister Jonathan Bell.
He was speaking at the inquiry into the Renewable Heat Incentive (RHI) scheme.
It was set up in 2012 to encourage uptake of eco-friendly heat systems, but overgenerous fuel subsidies left NI taxpayers with a £490m bill.
The scheme's failings led to the establishment of a public inquiry in January 2017.
It was during that time that Mr Bell named Mr Robinson in the NI Assembly as one of two DUP advisers who wanted to delay cost controls to the scheme because their families had "extensive interests in the poultry sector".
Poultry farmers made up the majority of RHI claimants.
'Shocked'
Mr Robinson told the inquiry that Mr Bell's claim was completely untrue.
He said none of his immediate family had boilers and that when he was named by Mr Bell, he was "as shocked as anyone".
He told the panel the claim was "hurtful" and that it catapulted his family into a media spotlight they did not deserve.
"Jonathan told lies, he knows he told lies and I'll just leave it at that," he said.
Although none of his immediate family are on the RHI scheme, Mr Robinson's father-in-law is a claimant, having applied in August 2015.
'Conflict of interest'
Mr Robinson said he did not discuss the RHI scheme with his father-in-law and that neither he nor his wife had any role or benefit in his in-laws' farming business.
In his witness statement, published on Tuesday, Mr Robinson said he "regretted" not seeking an opportunity to make his party aware of his relatives' connection to the scheme earlier.
"I accept that some may have perceived this as a conflict of interest with my work as a special adviser," he added.
He was asked about that perceived conflict of interest at the inquiry on Wednesday.
By the time Mr Robinson came to work in the economy department as a special adviser in May 2016, the scheme had been closed - but officials were still working to address the huge budgetary overspend.
Mr Robinson said he regretted not signing a written declaration of interest when he first told then Economy Minister Simon Hamilton about his father-in-law's link to the scheme in July 2016.
Mr Robinson said he and Mr Hamilton decided that as he was not a decision-maker, it was not necessary to take any further steps such as informing the civil service.
He said that was a mistake, and had he taken further steps he would have been in a "a much more defensible position" when the media asked him questions about his links to the scheme.
The inquiry also heard there was no mechanism for an adviser to make a declaration of interest until the form was created in December 2016.
Inquiry counsel Donal Lunny asked Mr Robinson if he could see the potential for a perceived conflict of interest.
'Political pressure'
Mr Robinson said he could, but added that he had no knowledge of RHI.
After his family connection to the scheme became public knowledge, Mr Robinson stepped aside from advising Simon Hamilton on RHI issues.
Mr Lunny put it to Mr Robinson that he only stood aside on RHI matters when the story broke to attempt to address building "political pressure", rather than the perceived conflict of interest.
Mr Robinson said he could see why people might think that, but insisted he stepped aside in order to allow the focus to remain on fixing the scheme.
When the assembly dissolved for the upcoming election in March 2017, sparked by the RHI scandal, he lost his adviser job.
But Mr Robinson returned to his previous role as the DUP's director of press communications.
On Wednesday afternoon, another former DUP special adviser appeared at the RHI inquiry for the first time.
It has already emerged that Stephen Brimstone is a claimant on the scheme, as is his brother, Aaron.
Mr Brimstone, who replaced a boiler in a shed at his home in order to get on the non-domestic RHI scheme, told the inquiry he wishes he had "never come across" the scheme.
He had a biomass boiler in his shed for a number of years, but said he began looking to replace it in late 2014 after experiencing maintenance problems.
He found out about the RHI scheme, which by that point had been operating for about two years.
Mr Brimstone submitted an application in August 2015, when he was adviser to a DUP junior minister.
Lucrative scheme
The Office of Gas and Electricity Markets (Ofgem) - the scheme's administrator - has confirmed that his application was valid under RHI rules.
The inquiry was told Mr Brimstone's usage fell within the scheme's rules and that he was not running the boiler to heat his home and shed 24 hours a day.
He also said he had never heard of anyone attempting to manipulate the scheme for profit - although the inquiry has heard evidence that experts warned government officials about that possibility.
Mr Brimstone's application was approved in April 2016, when he was advising then First Minister Arlene Foster, but he received payments backdated to when he applied.
He told the inquiry he would have gone back to using an oil heating system for his property had the biomass RHI scheme, which brought with it an attractive financial incentive, not been available.
"I wish I had done now," he said.
"I'm sure you do, but you didn't," said inquiry counsel Joseph Aiken.
'Thoroughly regrets'
The inquiry heard at the time Mr Brimstone was replacing his system, the cost of wood pellets had risen and there was more maintenance with a biomass boiler.
The former adviser said he wished he had "never come across" the lucrative RHI scheme, and admitted had it not been on offer, he would have ditched renewable heat.
Later, Mr Brimstone told the inquiry he "thoroughly regrets" not withdrawing himself from a conversation with two DUP advisers about plans to introduce cost controls to the scheme in summer 2015.
He said he should have stepped back from the conversation and made his colleagues aware that there could have been a "perceived conflict of interest".
"That's what you should have done and you didn't do," Mr Aiken said.
"Absolutely," replied Mr Brimstone.
'Information purposes'
In his witness statement to the inquiry, he said he told Arlene Foster "only for information purposes" in January 2016 that he had applied to the scheme, as he was then advising her in the first minister's office.
She has said Mr Brimstone's link to the scheme was not a factor in his decision to quit his job as a special adviser in late 2016.
Mr Brimstone has been in the public eye before: he was an aide to former social development minister Nelson McCausland, during which time he became entangled in a housing maintenance scandal.
He is due to give evidence to the inquiry again on Thursday.
On Friday, the inquiry will hear from another former DUP special adviser, Timothy Johnston, who is now the party's chief executive.