Ian Paisley asked council to attend dinner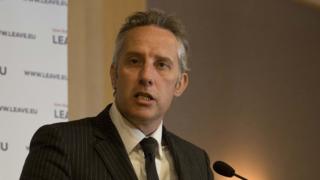 A special meeting of Causeway Coast and Glens Borough Council has heard the council paid for a table at a dinner hosted by MP Ian Paisley after he phoned asking them to attend.
The council paid £1,500 for the table at the September 2017 event in Tullyglass Hotel in Ballymena.
The NI Auditor's office has confirmed it looked into the payment as part of a wider audit of the local authority.
It will be making recommendations in the coming weeks.
At Monday night's meeting, the local authority's director of leisure and development, Richard Baker, told councillors Mr Paisley had phoned the council with an invite to the dinner.
The council has been criticised for using ratepayers money to sponsor a table at the event, which was attended by the Environment Secretary Michael Gove.
Sinn Féin Mayor of Causeway Coast and Glens Borough Council, Brenda Chivers, said she had called the special meeting because of concerns that the council had purchased "a table to a DUP fundraiser".
In a letter previously seen by the BBC, the council said the "spend level for attendance" at the dinner "did not require councillors' agreement in accordance with council's procurement policy and specifically the delegated responsibility to officers".
Council chief executive David Jackson was asked by SDLP councillor John Deighan whether officers from the local authority "felt let down by the creative invitation from Mr Paisley?"
Mr Jackson said he did not want to pre-judge an investigation, which is being carried out by the Electoral Commission, but said he was "certainly very embarrassed by the reputational damage that this has done to the council".
Mr Jackson also told the meeting that in future attendance at any "subsequent events" was to be cleared by him.
'Party fundraiser'
DUP councillor Sam Cole said he was not at the dinner in question, but he understood Mr Paisley was a facilitator for a business community networking event.
"Members here seemed to have reached their own opinion that this was a party fundraiser, a DUP party fundraiser, there is no evidence that has been offered in this chamber," he said.
Ulster Unionist councillor Norman Hillis said he found it difficult to understand why council officers had taken the decision to pay for a table at the event.
He said: "Surely the price of the table should have told the officers involved that this event must be in aid of something?"
The Electoral Commission has said it is aware of the payment made by the council, but cannot comment any further as its investigation is ongoing.
It is also investigating Mid and East Antrim Borough Council, which sponsored another table at the same event for the same sum.