St Conor's Derry: Growing up Polish in Northern Ireland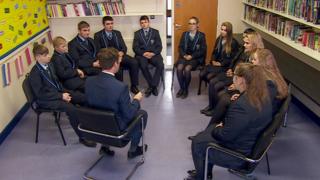 It has been fourteen years since Northern Ireland experienced an influx of Polish migrant workers following the expansion of the European Union.
Most came in the years following 2004 in search of job opportunities.
Some emigrated with young children who were just three or four-years-old at the time.
At Saint Conor's College in County Londonderry, there are some 32 pupils with Polish backgrounds on the register.
The secondary school is spread across two sites in Kilrea and Clady.
Eleven of the students attending the senior school are preparing for GCSE examinations.
Jacek, 15, says learning English was the first major challenge that he faced as a three-year-old moving to a different country.
"It was just hard as I didn't know the language when I first moved over here. When I went to school, in primary one, I had a good teacher and she just taught me everything."
'I am Polish'
While the students have spent most of their young lives in Northern Ireland, they all say their Polish heritage is important to them.
"I consider myself Polish, like fully, and the fact that I live here doesn't change the fact that I am Polish," said Andzelika, 16, a Year 12 student at the school.
"I can speak two languages and I have a home over here and over in Poland," she added.
All of the students agreed that their parents moved to Northern Ireland in search of a better life for their families.
"Mummy and daddy just say it's easier to get an education over here than it is in Poland and that we get it way easier over here, said Wiktoria, 15, a Year 11 student."
There are more than 32,000 Polish people living in Northern Ireland - the largest ethnic minority group.
Polish Cultural Week is now in it's 12th year, showcasing the country's arts, heritage and language.
Wiktoria agrees that it's important that the event is marked in Northern Ireland.
"Yes because it shows that people from other countries aren't different to you, they are just all the same. And it just shows the cultures," she said.
'We are all the same'
Despite being born in a different country to the majority of their peers, the 11 senior school students say they don't believe their lives are that different.
"I don't think so, because we are all the same," said Klaudia, a Year 11 student who moved here when she was 14.
"Maybe we have an opportunity to go to another country with our families and we speak another language, but that's it."
With Brexit getting closer, government figures show that more people from the 'EU 27' states like Poland are leaving the UK at a faster rate than they are arriving.
Klaudia, now 15, says it isn't something which concerns her.
"Not really because I'm not really interested in it or not even worrying about it because as long as I can stay here, I am not really interested in it.
"I think I have plans to go back to Poland but I don't know, maybe in 10 years time or something like this," she said.
St Conor's College has introduced GCSE Polish as an after school class for students.
The school's vice principal, Eamon McMullan, says it is important to celebrate the cultural differences within the school.
"Within school we implement strategies to do this, for example where teachers will greet students in their own language, knowing the basic common phrases from the Polish language and we've also introduced GCSE Polish.
"I feel this is vitally important for students as not only do they prepare to perfect their own language but it also enhances and reinforces their culture and their tradition."