RHI: Invest NI 'missed opportunity' over scheme flaws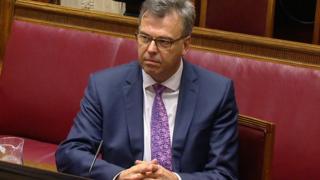 There was a "missed opportunity" to raise early concerns about critical flaws with the RHI scheme, the head of Invest NI has said.
Alastair Hamilton was giving evidence to the RHI inquiry.
On Thursday, a heating consultant said he identified problems in 2013, just months after RHI became operational, and passed them on to Invest NI.
Invest NI is part of the enterprise department, which set up the flawed green energy scheme.
Mr Hamilton is the top official in charge of business development in Northern Ireland. He has been chief executive of Invest NI since 2009.
Prior to that role, Mr Hamilton served as a DUP special adviser in the first minister's office.
Invest NI employed consultants who would provide advice to the arms-length body's clients about how to make their businesses more energy efficient.
Some of the firms wanted to put in RHI boilers even though they were not viewed to be the best solution for their energy requirements.
The consultants reported back to Invest NI that lucrative RHI subsidies were driving investment decisions that companies were making.
They also told them how firms were installing multiple boilers to maximise subsidy income.
In one case, a hotel was insisting in putting in four containerised RHI boilers, even though it meant sacrificing a large portion of its car park.
'Adequately'
An Invest NI official questioned on Thursday said that while the agency saw the reports, it assumed that high subsidies and short payback terms for the boilers was part of government policy.
On Friday, Mr Hamilton said that he had not become aware of the RHI scheme until 2014/15.
He was asked why Invest NI had not been consulted on its design and implementation, given that it had the business experts and officials, while those in the enterprise department running it were generalists with no energy experience.
Inquiry chair Sir Patrick Coghlin asked him: "Do you think that that served the people of Northern Ireland adequately?"
"I think there was a capability that wasn't tapped into," said Mr Hamilton.
"Why was that?" Sir Patrick asked.
"I can't answer that, sir," Mr Hamilton said.
Inquiry counsel Donal Lunny said: "Our theme today is in relation to the missed opportunity of Invest NI".
Mr Hamilton said he acknowledged that on Invest NI's part and that as accounting officer, he was responsible for that.
"Clearly there was a missed opportunity here, for all the reasons as to why that might have happened - we had evidence, we had information in reports that clearly showed this scheme was not operating as it was intended," he said.
What was the Renewable Heat Incentive scheme?
The RHI scheme was set up by the Northern Ireland Executive in 2012 as a way of encouraging businesses to switch from using fossil fuels to renewable sources for generating their heat.
Those who signed up were offered financial incentives to buy new heating systems and the fuel to run them.
The scheme's budget ran out of control because of critical flaws in the way it was set up: Claimants could effectively earn more money the more fuel they burned because the subsidies on offer for renewable fuels were far greater than the cost of the fuels themselves.
At one point the estimate for the overspend was set at £700m if permanent cost controls were not introduced - temporary cuts have since pulled the budget back on track for now.
Whatever the scale of the bill, it will have to be picked up by the Northern Ireland taxpayer.
Later, it emerged that Invest NI did not feed relevant information into an assembly question.
It had been asked by Steven Agnew of the Green Party in October 2013 about whether the RHI scheme was disincentivising energy efficiency.
By then, Invest NI had reports showing the problems in the scheme.
Mr Lunny said had the correct information been given, it would have brought the issue to the attention of the then-Enterprise Minister Arlene Foster.
Mr Hamilton said it had never been the case that Invest NI sought to encourage its client firms to use RHI as a means of making money.
The information it had, that the RHI scheme was encouraging energy inefficiency, which was not fed into an assembly question, suggested that very situation, the inquiry heard.
On Friday afternoon, Janet McCollum, former chief executive at the poultry production giant Moy Park, gave evidence to the inquiry again.
She said she now accepts that RHI financially benefited the poultry giant.
'Genius'
Poultry farmers make up a significant share of the claimants on the RHI scheme - almost all of them supply Moy Park.
Janet McCollum said she could now see how the company had benefited "indirectly".
Moy Park was only paying about half the cost of farmers' biomass fuel bills.
The producers were able to bear the cost because substantial RHI subsidies more than made up the income gap.
Mr Lunny said Moy Park had a "sophisticated" organisation when it came to costs and pricing.
He suggested it would have been obvious to the company what was happening.
But Mrs McCollum said the firm had not identified the fuel cost differential as an indirect benefit to it at that point.
Mr Lunny suggested it did not take a "genius" to work it out.
The inquiry has already heard evidence that the poultry industry was the root cause of a spike in applications to the scheme in 2015, when plans were under way to try and bring it under control.
Officials wanted to introduce tariffs that October to reduce the level of lucrative subsidies claimants could earn, but a further four-week delay allowed a massive spike in applications to the scheme, which had a huge impact on the public purse.
Mrs McCollum said Moy Park "definitely contributed to the spike", but did not drive the spike.
'Impetus'
Later, she was asked about the progress of planned changes to the RHI scheme that would make it less lucrative, and what Moy Park knew about it.
Officials from the enterprise department also gave the firm a heads-up about what was happening, when plans to bring the scheme to a complete close in 2016 were under way.
The scheme ultimately shut at the end of February 2016.
In January that year, the then-Finance Minister Mervyn Storey and his DUP special adviser Andrew Crawford - who has given evidence to the inquiry - met Moy Park executives, including Mrs McCollum.
She said she "specifically" remembered Mr Crawford telling her that the scheme would be closing.
Asked if he had mentioned if it would be closing soon, Mrs McCollum said she felt there was an "impetus" about what he said.
Mr Crawford has denied that he tipped off Moy Park about the scheme's closure.