Ex-priest Daniel Curran sentenced for indecent assault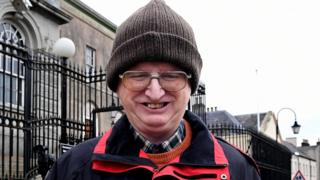 Former priest Daniel John Curran has been sentenced to 200 hours of community service for a "planned and premeditated" indecent assault on a 12-year-old boy.
The crime took place at Curran's cottage near Tyrella Beach in 1991.
The 68-year-old, of Bryansford Avenue in Newcastle, County Down, took the boy and two others there for the night.
He gave the victim whiskey and abused him after he returned from the bathroom.
It is Curran's sixth conviction for abusing children. An earlier court hearing was told he had previously received sentences totalling 16 years, including time in custody and time suspended.
He admitted the offence in June.
As this crime took place around the same period as those Curran had already been sentenced for, a fresh custodial sentence was not imposed.
'Power and influence'
Delivering sentence at Downpatrick Crown Court on Thursday, Judge Piers Grant said: "This was a gross breach of position and trust on your part.
"As has become well-recognised in society in both the north and south of Ireland, society regarded priests with a high degree of reverence, respect and in many cases fear.
"As a group you enjoyed very considerable power and influence.
"You and others wickedly, sinfully, by your professed moral standards, dishonestly took advantage of people's trust in you.
"This was planned and premeditated."
The court heard that the abuse had changed Curran's victim, who had been seeking help since reporting the crime in 2015.