Belfast hotels UK's fifth most expensive, says PwC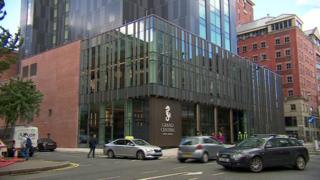 Belfast hotel prices have risen to become the fifth most expensive in the UK, according to new analysis by consultancy PwC.
The cost of a room in the city increased by 5% in the past year to an average of £80 a night.
PwC said there had been a 1% drop in occupancy rates due to "increased competition" - new hotels have added 1,000 more rooms in the city.
But Belfast's occupancy rate of 78% is 3% above the UK average.
The figures are contained in PwC's hotels forecast for 2019.
It said demand for rooms in Belfast "continues to be driven by inbound tourism, domestic holidays and events".
Average room prices in London are £114.
Edinburgh, Brighton and York are the other UK cities dearer than Belfast.
Revenue per available room - a key industry benchmark known as RevPar - is now £62 for Belfast, below the UK average of £67.
RevPar is calculated by multiplying the average room rate by the occupancy rate.