Jolene Bunting: Belfast councillor suspended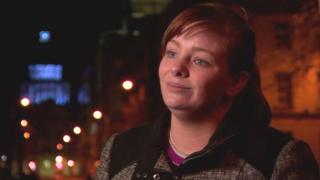 Independent unionist councillor Jolene Bunting has been suspended from Belfast City Council for four months.
The decision has been taken by the Local Government Commissioner for Standards.
An investigation into 14 complaints about Ms Bunting's behaviour as a councillor has yet to be completed.
She is the first councillor in Northern Ireland to be suspended while the outcome of an investigation is pending.
Ms Bunting was first elected to Belfast City Council in 2014.
Earlier this month, a hearing to determine if she should be suspended took place because of the number of complaints against her.
Some of the complaints relate to a video posted on social media earlier this year, showing Britain First's deputy leader Jayda Fransen making a statement while sitting in the lord mayor's chair.
Frog cartoon
There was also a frog cartoon Ms Bunting posted on Twitter that was criticised by other councillors as "racist and offensive".
In a statement, the acting commissioner for standards, Ian Gordon, said there was evidence Ms Bunting had failed to comply with the councillors' code of conduct, and said he found it likely that subsequent publicity is likely to have had a negative impact on public confidence.
He said he was not convinced by Ms Bunting's claim that her association with Britain First was to encourage it to become more moderate and to improve its structure.
Mr Gordon found that the events took place over a period of time, and appeared to be planned and their content premeditated.
The statement says he took into account submissions about the significant impact which suspension would have on the councillor, both as a councillor and in her personal life but he said he was satisfied that, in this case, the "maintenance of public confidence" outweighed the personal and financial impact on Ms Bunting.
Ms Bunting is accused of breaching 12 parts of the councillors' code of conduct, which relate to behaviour towards other people, disrepute, responsibility under equality legislation, use of her councillor position and the use of council resources.
The full hearing into her behaviour is likely to be held at a later date this year.
'Dark day for democracy'
Ms Bunting was the first Traditional Unionist Voice (TUV) representative elected to Belfast City Council, but quit the party last year to become an independent councillor.
She described the suspension as an "absolute disgrace and a dark day for democracy".
"It's a dark day for the freedom of expression we should hold dear to us and we should cherish," she said.
"I certainly don't believe that I've brought them [the council] into disrepute. I told the truth, I have associated with people that they don't like."
She added that she no longer has any association with Britain First.