DUP councillor apologises over 'IRA mouthpiece' tweet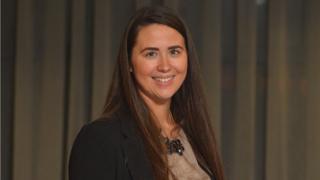 A Democratic Unionist Party councillor has apologised to an Alliance Party member for claiming she was a "mouthpiece for the Provisional IRA".
Graham Craig made the remark about Sorcha Eastwood on social media last month.
It was shortly after Ms Eastwood had spoken at a rally supporting families of the Ballymurphy massacre victims.
On Tuesday, Mr Craig said he should never have published the statement in the first place.
Following criticism of the tweet, Mr Craig deleted the post in which he made the comments about Ms Eastwood, who was Alliance's candidate in West Belfast in the 2017 General Election.
In a post on social media, the Belfast city councillor said he now accepted what he alleged about Ms Eastwood on 13 August was "untrue".
"I sincerely apologise to Ms Eastwood and her family for any hurt and distress I may have caused," he added.
The Alliance Party said it would not be commenting on Mr Craig's apology.
Last month, Ms Eastwood said the matter had been referred to her solicitor.
The DUP said it would not be making any further statements on the matter.