NI paper review: GAA tattoo bet and cheap drinks promotion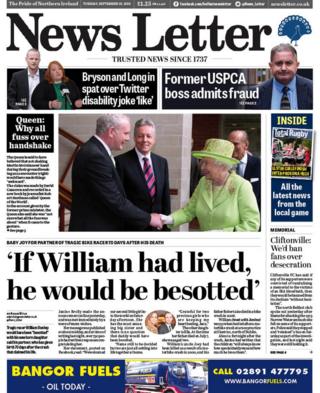 A GAA tattoo bet, "irresponsible" drinks promotions and an emotional announcement make the headlines on Tuesday.
"If William had lived he would be besotted," reads the front page of the News Letter.
In a post on facebook, the partner of racing driver William Dunlop has revealed the birth of her second child.
William died 70 days ago following a crash in Skerries, north Dublin.
Janine Brolly wrote: "We welcomed our second little girl into the world on Saturday afternoon.
"She has the most amazing big sister and there is no question that daddy would have been besotted."
Meanwhile, police say they are to increase their presence at the site of poppy wreaths near Warrenpoint which were vandalised at the weekend.
Eighteen soldiers were killed in two IRA bomb attacks close to the area in 1979.
The paper spoke to one Ulster Unionist councillor who called for police to "keep a close eye" on the memorial.
In response, the PSNI said following reports of criminal damage at the site, "officers will be increasing visibility in the area to prevent further incidents of this nature".
Flu vaccination shortage
The Irish News reports that GP's are being forced to stagger the administration of the flu vaccine due to a shortage for the over-65s.
Those aged between 65 and 74 could face up to a three month wait, it claims.
While those aged over 75 will be given priority, children and "at risk groups" under 65 will be unaffected.
The front page also features a screen grab from CCTV which captures two masked gunmen outside a house in west Belfast.
George Richmond's house was sprayed with seven shots, and he was told by police that his family is no longer safe to live in Dermot Hill Parade.
It happened shortly after midnight on Monday.
Mr Richmond also told the paper that family cars had been destroyed in arson attacks over recent years in acts of intimidation.
"We don't feel safe," he said.
Cheap alcohol promotions
Fresher's week makes the front page of the Belfast Telegraph, with a warning about "irresponsible" drinks promotions aimed at students.
It comes as the Fourteen Club in Belfast's Tomb Street launched its '666' night where drinks are on offer for as little as 60p.
Belfast DUP Councillor Graham Craig told the paper he was "deeply concerned" about the health and wellbeing of students.
He added that while most publicans "refrain from cheap alcohol promotions", it was "disappointing to see that this responsible attitude is not universally adhered to".
Nightclub owner Patrick Fegan said all staff had received drink awareness training, adding there are many other drinks promotions going on at clubs and pubs around the city at various times of the year "without much of a fuss".
In other news, the paper reports that 602 Presbyterians have signed a protest letter over the Church's stance on same-sex marriage.
The paper has printed the letter in full.
It comes after the the general assembly voted in June to adopt a new policy that means those in a same-sex relationship cannot be a full member of the Church.
It also voted to loosen ties with the Church of Scotland due to its views on same-sex relationships - following a report brought by the doctrine committee.
In the letter, the Creative Conversation Group claim the report "arrived at the recent general assembly without full and proper consideration or debate".
Responding to the letter, the Presbyterian Church said: "The annual general assembly, and the other structures of the Church, provide significant dramatic accountability where genuine dialogue can take place, rather than through the pages of newspapers."
Viva Ass Vegas
A man who lost a bet with his friend on a holiday to Las Vegas has ended up with a famous GAA quote tattooed on his bottom, reports the Daily Mirror.
Rob Kinsella told the paper he bet that Tyrone would beat Dublin in the All-Ireland football final but lost.
Friend, Shane Claffey picked a tattoo for the Tyrone man - a quote from Kieran Donaghy to Joe Brolly after Kerry's 2014 All-Ireland final success.
"Well Joe Brolly what do you think of that!" it reads.
A picture of the ink was shared on social media, to which Joe Brolly replied: "Tell me you are kidding".
Historic handshake
The Daily Mirror also reports that a new book has revealed that the Queen shook hands with former first minister Martin McGuinness as, "it would have been awkward not to".
Mr McGuinness met the Queen in 2012 during her visit to Northern Ireland.
The meeting was thought to be symbolic of how far the peace process had come in Northern Ireland.
Contributing to a new publication, former Prime Minister David Cameron claims that the Queen was embarrassed to be praised for meeting the leader of the IRA.
"She was, as ever, not sure what all the fuss was about," he said.