Storm Ali: Man killed as winds batter NI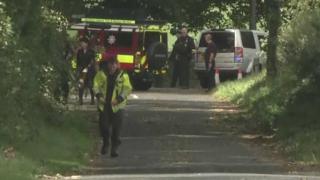 A man in his 20s has been killed and another in his 40s was injured after a tree fell on them in County Armagh, as Storm Ali batters Northern Ireland.
The incident happened at about lunchtime on Wednesday at a water pumping station at Slieve Gullion Forest Park.
The men were working on behalf of Northern Ireland Water.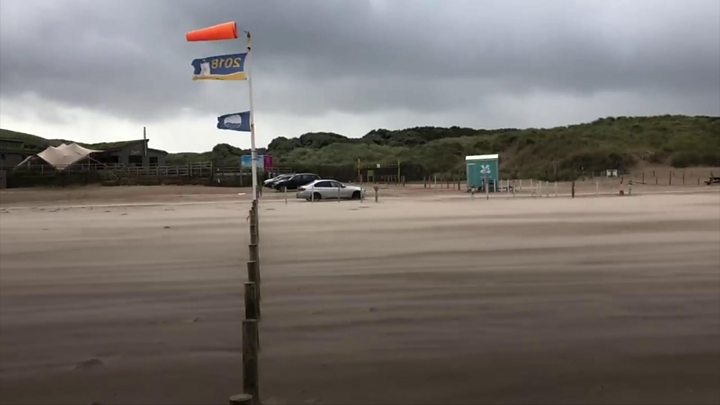 In the Republic of Ireland, a woman in her 50s died after a caravan was blown over a cliff in County Galway.
It is understood she was a tourist and had been staying at a campsite in Claddaghduff, near Clifden.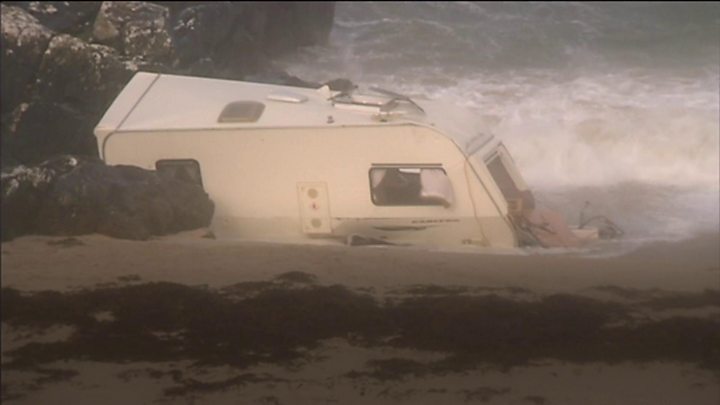 In a statement, Northern Ireland Water expressed sympathy to the man's family and said it was working closely with the emergency services and Health and Safety Executive.
"NI Water is aware of an incident involving employees of one of our contractors," it said.
"Emergency services attended to two individuals. Sadly one of these people died at the scene."
Newry, Mourne and Down District Council extended its sympathy to the families of the man who died and the man who was injured.
It said Slieve Gullion Forest Park will remain closed until further notice.
Northern Ireland Electricity had restored power to more than 70,000 customers by 21:45 BST on Wednesday but about 25,000 homes and businesses are still without power in Northern Ireland and a large percentage of those will remain without power overnight.
The company said that about about 350 additional staff are working on broken power lines.
However, it said that damage to power lines had been extensive and that while emergency teams were "working as fast as they can" it did not expect all customers to have power restored by Wednesday evening.
"We are expecting that the majority of customers affected will have power restored tomorrow however some small, isolated pockets of customers are likely to be without power for longer," a spokesperson said.
The areas worst affected by power cuts in Northern Ireland are Omagh, Dungannon and Enniskillen.
At the height of the storm in the Republic of Ireland, more than 186,000 homes and businesses were left without power. The areas worst affected were Cavan, Sligo, Galway, Thurles, Castlebar, Tralee, Portlaoise, Mullingar, Dundalk and parts of County Dublin.
However, electricity supplies were restored to about 119,000 customers by 20:00 local time.
"We will work late into the night to restore supply before resuming at first light tomorrow".
"Based on our experience with previous storms, we can predict that it will take up to three days to restore power to customers affected," an ESB Network spokesperson said.
"However, we expect that the vast majority of the 126,000 customers affected will their power restored sooner than that."
BBC News NI weather presenter Barra Best said Storm Ali recorded much stronger gusts than ex-hurricane Ophelia - which came with red alerts last October.
71mph was recorded at Orlock Head in County Down on 16 October 2017, 91mph was recorded at Killowen in County Down on Wednesday.
The amber weather warning has now gone with a yellow warning in place across Northern Ireland until 22:00 BST.
Wind gusts of up to 89 mph have hit Mace Head in County Galway.
Transport disrupted
Dozens of roads are known to have been affected by the storm, including a number closed due to fallen trees.
The M1 in County Antrim was earlier closed in both directions when power cables fell across the road.
One woman, Ruth McCarthy, from Belfast was stuck on the Enterprise train between Belfast and Dublin for seven hours, due to debris on the track.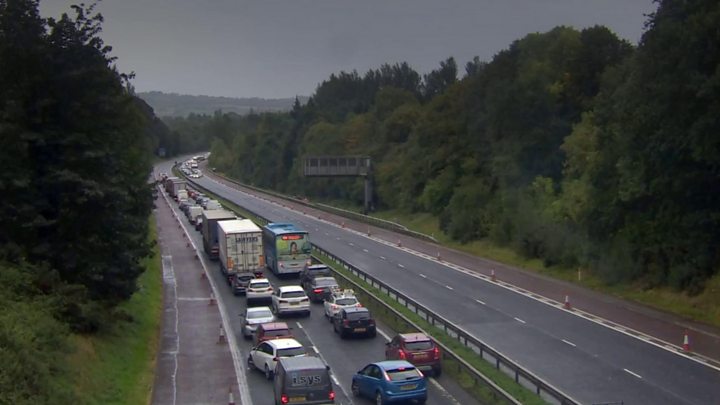 In Londonderry, the Foyle Bridge was closed for much of the morning but has since re-opened.
Roads information is available on BBC NI Travel and Traffic Watch NI.
Dentist David Gwyer from Galbally in County Tyrone received stitches to his head and suffered cuts down the side of his body when a tree crashed through the roof of his car.
Cross-border Enterprise trains have been severely disrupted with multiple trees blocking the tracks.
The railway line between Belfast and Derry was closed for much of the day, due to debris on the line but has now reopened.
All of Northern Ireland Railway's other lines are also operating but delays and cancellations are likely.
There is a blanket speed restriction of 50mph on all lines until a full assessment of the railway takes place on Thursday morning.
"We have staff on standby to remove fallen trees, branches and other debris from railway lines. Meanwhile, our bus operations teams will continue to monitor road conditions and will review routes accordingly," Translink said.
Belfast International Airport has said that winds are causing delays and cancellations and is advising passengers to check with their airline.
A Ryanair flight from Milan-Bergamo to Belfast International had to be diverted to Liverpool due to high winds.
A passenger on the flight said the pilot circled at Belfast International, but failed to land.
All sailings between Rathlin and Ballycastle on Wednesday have been cancelled.
In the Republic, dozens of flights have been cancelled - more than 40 at Dublin Airport.
In Dublin, all Luas tram services between Balally and Dominic stops - including the whole city centre - have been cancelled due to a fallen power line.
Irish Ferries has also cancelled sailings to and from Dublin.
A man has been injured after a tree fell on his car on the Athlone to Ballymahon Road in County Westmeath.
Damage and closures
The doors of the Titanic Museum in Belfast have been damaged by the storm, while two councils in Northern Ireland have closed parks and cemeteries.
The SS Nomadic is closed and visitors are also advised to avoid areas such as the Plaza, Titanic Slipways and Titanic Walkway due to the high winds.
Belfast City Council has closed its parks, playgrounds and playing fields for the day because of the dangers of the storm. Belfast Zoo is also closed.
Derry City and Strabane District Council has closed all its park areas and cemeteries.
People have been advised not to visit the Giant's Causeway due to the strong winds. The shuttle bus service running to the stones has been stopped and the Visitor Centre is closed.
In the Republic, the second day of the National Ploughing Championships in County Offaly - one of Europe's largest outdoor exhibitions - has been cancelled due to public safety concerns.
Phoenix Park in Dublin has closed, including Dublin Zoo.
The Office of Public Works has closed some of its public sites in areas where the wind warnings will be in place.
The sites include Skellig Micheal, the Battle of the Boyne site and St Audeon's Church.
The weather is expected to improve from about 18:00 BST on Wednesday.
For more information on staying safe, emergency contact numbers or to report fallen trees visit NI Direct.