Space technology firm creates 33 jobs in Belfast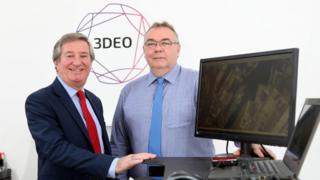 A Belfast-based space technology firm is to create 33 jobs in four years.
Bill Montgomery, from Invest NI, said it is one of the first local companies to make a major investment "as the result of opportunities that will flow out of the space sector".
The jobs include space system engineers and satellite data consultants, generating more than £1.5m annually in additional salaries.
Invest NI has offered 3DEO more than £700,000 for the recruitment drive.
The UK Space Agency has been set the target of quadrupling UK revenues to £40bn by 2032 and said this can only be achieved by new companies entering into the sector.
"We are working towards developing products and solutions that will enable better informed, real-time decision making in the future for defence, governments and the civic markets," said Andy Macpherson, from 3DEO NI.