Rugby referees protest over abuse at Coleraine Rugby Club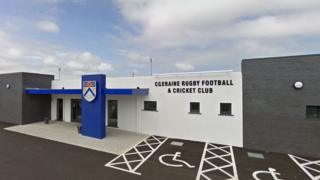 Rugby referees are refusing to officiate at Coleraine's home matches after a female referee was verbally abused at the club last season.
Even though disciplinary action was taken against the club by the Ulster Rugby authorities in April, the protest by referees is continuing.
Coleraine Rugby Club said they were trying to resolve the "impasse".
The referee who was the target of sexist, verbal abuse is understood to be Grainne Crabtree.
The former City of Derry player is one of a small number of female referees in Ulster.
In a statement on Monday, Coleraine RFC said they did "not tolerate any form of abusive behaviour" at the club.
"In our almost 100-year history we have never had a situation like this," they added.
"We have treated the matter extremely seriously and accepted the sanctions imposed after an Ulster Branch disciplinary investigation in March this year, a decision in which the Ulster Society of Rugby Referees (USRFR) took part.
"The USRFR and the Ulster Branch are aware of the outcome of the very thorough investigations the club has carried out and the legal advice received.
"We continue to work with the Ulster Branch and USRFR to resolve the impasse."
'Fresh information'
It is not clear what sanctions were imposed on Coleraine last season.
The protest, which concerns all Coleraine RFC teams and not just the first XV, has been ongoing since the beginning of this season, although Coleraine are yet to play a home fixture.
It is believed the disciplinary process has recently been re-opened after new information came to light.
The USRFR said the abuse of a volunteer referee at Coleraine RFC on 18 March had been investigated by the IRFU (Ulster Branch) and the charges upheld.
The organisation said no-one had been held to account by Coleraine RFC and the referee had received no apology.
"The society must have confidence in the support and governance of the clubs for the safety and well-being of our referees," its statement said.
"In April 2018, the society advised the club and the branch that we would not select any official to the home venue of Coleraine RFC but in support of the players, we would accommodate the fixture at another venue; subject to any actions that the club might take."
Ulster Rugby authorities say they are trying to find a resolution.
"The IRFU (Ulster Branch) is working closely with the Ulster Society of Rugby Football Referees and Coleraine RFC to resolve this issue and it would be inappropriate to comment at this time," a spokesperson said.