Taxi man who drove at passenger and broke his wrist avoids jail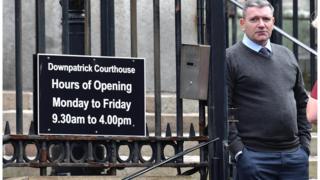 A taxi driver who deliberately drove at a passenger and broke his wrist when he refused to pay a fare has avoided jail.
William David McFarland, 57, was sentenced to 100 hours community service and two years on probation.
The judge said he had been "extremely tempted" to send jail him but did not as he will "inevitably" lose his job.
The defendant, from Owenroe Drive, Bangor, pleaded guilty to attempting to cause grievous bodily harm to Alan McMullan with intent.
McFarland was sentenced at Downpatrick Crown Court on Monday.
Judge Piers Grant warned him if he breached any aspect of the court orders or reoffended he would be "brought back immediately to this court and if you come before me it's almost inevitable that you will go to prison".
During sentencing, the judge recounted the facts surrounding the offences and described how Mr McMullan had jumped to the front of the queue at a taxi rank in Bangor's High Street and "pushed his way into" McFarland's car ahead of other people on 25 June 2017.
'Unprovoked attack'
"He was clearly intoxicated and his behaviour, in any description, was extremely poor," Judge Grant said.
He added that when the car stopped close to Bangor Football Club, Mr McMullan "declined to pay... he said he would only pay a small amount".
The court heard that when Mr McMullan walked off without paying anything, McFarland deliberately drove "directly at him", breaking the victim's wrist and causing bruising to his knees and lower back.
Back at the taxi rank, Mr McMullan confronted the defendant, saying "do you remember me", but McFarland drove off.
When he was arrested and interviewed, McFarland denied the incident and claimed he had been threatened by the victim.
'Absolutely disgraceful'
The judge described his behaviour as "absolutely disgraceful" and added that, while there had been an argument, "it's quite clear this was an unprovoked attack".
He said Mr McMullan was "to a large extent defenceless and certainly defenceless against a car", which McFarland had used "as a weapon".
McFarland entered his plea on the morning his trial was due to begin and also pleaded guilty to dangerous driving, failing to remain after an accident and failing to report an accident following the incident.
Imposing a five-year driving ban, in addition to the enhanced combination order, the judge said McFarland's situation was "a disastrous set of circumstances of your own making because behaviour like this is simply and utterly unacceptable".
In addition to the court order and driving ban, McFarland was also fined £400.