STATSports: 200 jobs for County Down technology firm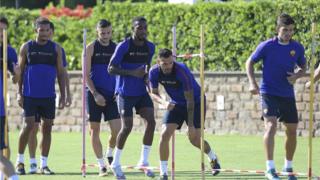 A Newry technology company is creating 237 jobs in a major expansion of its business.
STATSports is behind player tracker devices fitted to training vests used by the likes of Manchester United and the Ireland rugby team.
The new jobs will pay combined salaries of £7m.
In March the company signed a "groundbreaking deal" with the US Soccer Federation.
STATSports is a provider of wearable player tracking devices and analysis software with offices also in Ireland, London, Chicago and Florida.
The company is planning to create more the jobs over the next three years as part of their global growth plans.
Speaking about the investment Alan Clarke, CEO and co-founder of STATSports, said it is an exciting time for the company.
"This investment will allow us to expand our reach even further in both the elite and everyday field sports sector," he said.
Welcoming the announcement, secretary of state for Northern Ireland, Karen Bradley MP said the investment is "brilliant news" for Newry and Northern Ireland.
Invest NI's Jeremy Fitch said they are "proud" to be supporting STATSports to grow and develop: "This significant expansion to STATSports workforce is an aggressive move to break into new markets and increase sales in Europe, the US, Asia and South America."
Invest NI has offered STATSports almost £4m towards its investments in job creation, R&D and staff training.
Recruitment is under way in Newry with 92 of the new roles already in place.