John Gilligan: Bail refused in money laundering charge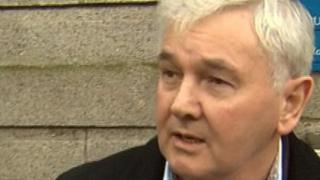 A Dublin man charged with money laundering offences has had bail refused at court in Coleraine.
John Gilligan, 66, was arrested at Belfast International Airport in August attempting to board a flight to Spain.
The National Crime Agency (NCA) said officers recovered approximately €23,000 (£20,000) at the scene.
A lawyer for Mr Gilligan made a new application for bail after a previous refusal at the High Court in Belfast earlier this month.
An NCA investigator, who was giving evidence for the prosecution, said the agency was objecting to bail over concerns that Mr Gilligan was a flight risk.
Mr Gilligan's solicitor told the court that his client had signed bail on a daily basis in Dublin for three and a half years, but added that finding the "documentary evidence" to verify this was so far proving difficult.
The NCA investigator said he would assist the defence in securing the relevant documentary evidence after a request for assistance from the solicitor.
'Threat on his life'
Concerns about Mr Gilligan's health were also raised by his legal team, but the NCA investigator said he had received assurances that there were medical facilities in prison where treatment could be provided.
He also said that Mr Gilligan could be taken to hospital if that was required.
The NCA investigator was also asked by Gilligan's solicitor whether the organisation had liaised with the Gardaí (Irish police) in relation to the case.
He replied that a request had been made in relation to a matter that Mr Gilligan had raised during interview about a threat on his life.
'Ill judged'
The court also heard that Mr Gilligan's legal team had contacted the NCA about whether a second bail address, which had been provided, was suitable.
This was challenged by a PPS lawyer who said an officer she'd spoken to received no request in relation to any address.
In refusing the bail application the district judge said it had been "ill judged" and added that there was nothing to suggest that the circumstances of the case had moved "one iota".
John Gilligan will appear in court again via video link on the 15 October.