Serious flu cases in Northern Ireland doubled in 2017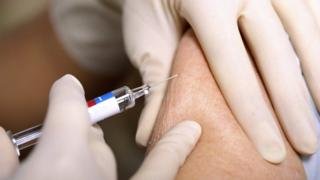 The number of people treated for the flu virus in intensive care or high dependency units doubled last year, according to the Public Health Agency (PHA).
In total, 119 cases were treated in these departments and 22 people diagnosed with flu died.
Of those patients admitted to intensive care, the average age was 64, with 11 patients under the age of 15.
The PHA has called for everyone who is eligible for the flu vaccine to get it.
The organisation said vaccinating children against the virus can help reduce it spreading.
'Super-spreaders'
Dr Lucy Jessop, consultant in health protection at the PHA, said: "The flu virus spreads through the air when people cough and sneeze without covering their nose and mouth, and because young children don't always cover their noses or mouths when coughing or sneezing, they can spread the flu virus very quickly, making them 'super-spreaders'.
"Because the virus spreads easily, pre-school and primary school children are being offered the flu vaccine, giving them the best protection and also helping to protect more vulnerable members of their families too."
She added: "Traditionally uptake rates for flu vaccination are high in Northern Ireland, however last year we saw a slight drop.
"We mustn't become complacent - we need to maintain high rates of uptake every year to maximise protection for our community.
"It is important that everyone who is eligible for vaccination - whether they are two or 102 - takes up the offer."