'Flooding' at Cookstown Health Centre after burglary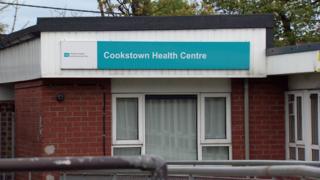 Police say significant water damage has been caused to Cookstown Health Centre in County Tyrone, following a burglary.
It is believed the incident happened between Friday evening and Saturday morning.
Burglars removed the sealed lid of the roof space water storage tank and destroyed the ballcock mechanism.
Police said they then diverted the external overflow pipe "to make the overflowing water empty inside the building".
The PSNI said in a statement on social media that "by sheer good fortune", a staff member at the centre went into the building on Saturday morning "and spotted the flooding inside".
"There is significant water damage," they added.
"If this hadn't been discovered until Monday the majority of Cookstown Health Centre would have been completely destroyed, medical equipment, notes, medicines, patient records and computers would all have been lost to water damage."
Police said it was "a targeted attack on the people of Cookstown" and that "the only aim was to destroy the health centre".
A police spokesperson said they wanted to see those responsible prosecuted and are analysing CCTV footage.