Calls for faster decision on future of Bank Buildings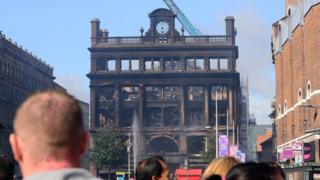 A senior member of Belfast Chamber of Trade has called for quicker decision-making on the future of the fire-ravaged Bank Buildings.
More than three weeks after the Primark fire, it is still not clear if the historic building can be saved.
A safety cordon is in place for at least four months, cutting off shops and hitting city centre retail trade.
Some stores have reported a drop in business of more than 50% since the fire two weeks ago.
Speaking on BBC Radio Ulster's Inside Business show, chamber official Les Hume said the building's future needs to be decided very soon.
"If the building can be saved within a reasonable time... let's do that, but if it cannot, then say that quickly," he said.
The 230-year old listed building was devastated by fire on 28 August.
Mr Hume said: "I am not prepared to accept four months. Why are things not happening quicker?"
Meanwhile, Retail NI chief executive Glyn Roberts said some shops around the cordon on Castle Street "may not survive four weeks".
He said their footfall was down by as much as 70%.
Mr Roberts repeated a call for an emergency fund to help retailers, from the likes of HM Treasury, but said "it is hard to put a precise number on it".
Inside Business airs on Radio Ulster at 13:30 BST on 16 September, and 18:30 on 17 September