Cyber-attacks on Northern Ireland universities on the rise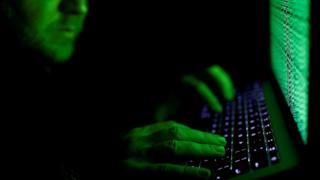 Universities and further education colleges in Northern Ireland suffered 16 serious cyber-attacks in 2017/18.
That was a rise from three such attacks in 2016/17.
The figures come from JISC, a UK government-funded agency that provides cyber-security for universities and colleges.
They record the number of distributed denial of service (DDOS) attacks, which can disable an organisation's website or server.
DDOS attacks are sustained attempts at disrupting networks and do not include incidents such as phishing frauds or attempts to use "malware" or "ransomware".
A spokesperson from JISC said that the large increase in attacks against Northern Ireland was "mostly due to a recurring attack against one member over a one-week period".
However, JISC - formerly known as the Joint Information Systems Committee - did not provide details of which local university or college was involved in that incident.
'Students in the frame'
There were more than 850 attacks across the UK in 2017/18, aimed at almost 190 universities and colleges.
This was up from fewer than 600 attacks on about 140 institutions in the previous year.
JISC's analysis also discovered staff or students could often be responsible, rather than organised crime or hacking groups.
It examined the timing of the 850 attacks in 2017-18, and found a "clear pattern" of attacks being concentrated during term times and during the working day.
Their analysis of cyber-attacks on the research and academic network concluded there were "suspicions that staff or students could be in the frame".
A JISC spokesperson said that DDOS attacks could be "catastrophic" if not tackled quickly.
"Imagine the chaos if there were no email, no finance systems, no access to learning resources or the virtual learning environment," they said.
"Fortunately attacks that cause this much damage are rare and we encourage our members to be robust in their approach to cyber-security."
JISC also warned of an increase in phishing emails targeting students at the start of the new university term.