Government has 'sticking plaster approach' to NI, says Andrew Murrison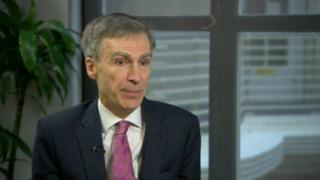 The government has been accused of having a "sticking plaster approach" to restoring devolution by the Northern Ireland Affairs Committee chairman.
Conservative MP Dr Andrew Murrison was speaking after the cross-party group published a report into devolution and democracy in Northern Ireland.
The report said "politics in Northern Ireland has not been serving the people at all well recently".
Stormont's devolved government collapsed in January 2017.
"We must move beyond a sticking plaster approach and do more to facilitate sustainable governance in the region with proper accountability and scrutiny mechanisms," Dr Murrison said.
The report also calls on Secretary of State Karen Bradley to "take firmer action to restart talks to restore the Northern Ireland Assembly and overcome barriers on policy development and vital decision making in the region".
However, MPs did praise a recent decision by Ms Bradley to reduce MLAs' pay.
"Moves to restore the Policing Board are particularly welcome. We also welcome the action taken on MLA pay," Dr Murrison added.
"We are glad that the secretary of state has acknowledged that more clarity is needed on the powers of civil servants to take decisions in the light of recent legal challenge."
MPs also considered the government's approach to the Hart report which investigated institutional abuse in Northern Ireland.
The Historical Institutional Abuse Inquiry was established to examine allegations of child abuse in children's homes and other residential institutions in Northern Ireland from 1922 to 1995.
The inquiry, which was chaired by Sir Anthony Hart, published its findings in January 2017.
Judge Hart recommended compensation to survivors of abuse, including in homes/institutions not covered by the HIA inquiry.
He also recommended a permanent memorial be erected at Stormont, a public apology to survivors and a commissioner for survivors of institutional abuse.
The committee noted that it "is disappointed that the government has not accepted the necessity of taking forward the recommendations of the Hart report."
Dr Murrison also said: "When crucial measures, such as those set out in the Hart report, are left to drift we cannot be satisfied with the status quo.
"The reticence to become involved in any decision making is understandable, but with so much time having passed, with so little visible progress made, we urge the secretary of state to consider further options and build on the steps she has taken in the past week."
The Westminster body which regularly investigates Northern Ireland matters includes Conservative and Labour MPs, DUP MPs and the Independent MP Lady Hermon.
The MPs also concluded that in the absence of devolution, the views of people in Northern Ireland must be heard as the UK prepares to leave the EU.
The cross-party group said it "is disappointed that there will be no specific measures to strengthen Northern Ireland's voice during the Brexit process."