Co Antrim woman collects 3,000 woolly hats for charities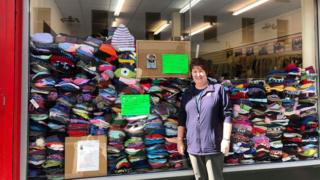 One Co Antrim woman's mission is to pull the wool over plenty of people's eyes - 3,115 people to be exact.
Doreen Armstrong, from Ballymena, has successfully collected more than 3,000 woolly hats for charity through a special appeal.
They will be donated to four different charities all over Ireland.
Ms Armstrong collected the hats with help from her knitting group Let's Knit and Crochet Together, which she set up five years ago.
The appeal for hats was set up as a tribute to her late father, Tommy Donaghy, who passed away in January this year, aged 90.
"I just thought this would be a great project. It is is a way to donate to the homeless and it's also a cross-community effort," she said.
Word of mouth
Ms Armstrong works as a manager in Ballymena's Salvation Army shop and has previously worked with her knitting group to provide clothing and other knitted items for its appeals.
After her father died, Ms Armstrong said she spoke to her friend Fiona Kelly who estimated that this year, the Road of Hope charity's annual shoebox appeal would need 3,000 hats this year.
The appeal distributes them to children in Eastern Europe.
"I just said, 'Leave that with me. I'll get that done'," said Ms Armstrong.
She named the appeal for woolly hats 'Tommy's Hat Appeal' and donations came in fast through word of mouth.
"I have no idea how many people have donated. A lot of the people have remained anonymous," she said.
"Some hats have come from as far away as Donegal, Newry, Portrush, Portstewart - everywhere."
Cast off!
Ms Armstrong said she is surprised by the attention the appeal has gathered, but is going to build on it again for her next appeal and reach another milestone number.
"It will only get bigger and bigger. We'll be setting a higher target next time," she said.
The woolly hats are expected to be distributed at the end of October.
This was first reported by the Belfast Telegraph.