New US consul general arrives in Belfast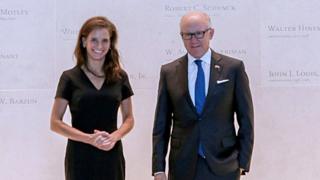 Elizabeth Kennedy Trudeau has taken up her position as the new United States consul general for Belfast.
Ms Trudeau succeeds Daniel Lawton in the role.
The US Consul General office in Belfast described her as a "career member of the US foreign service".
She previously served as the US consul general in Lahore, Pakistan, as well as as the US State Department's director of press operations.
The US ambassador to the UK, Woody Johnson, tweeted his welcome to Ms Kennedy on Wednesday.
He said there was "lots of important work to be done as we continue to deepen the US-NI relationship".