Bradley 'must intervene or construction jobs will be lost'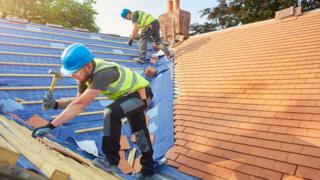 The secretary of state has been warned she must intervene so civil servants can make decisions on major projects or construction jobs will be lost.
The warning has come from the Construction Employers Federation, which represents the industry in Northern Ireland.
NI Secretary Karen Bradley said she plans to introduce relevant legislation in October.
There is currently uncertainty over a number of high profile projects.
These include the A5 road improvement scheme, Casement Park and a new Transport Hub for Belfast
The managing director of the Construction Employers Federation, John Armstrong, said Karen Bradley must allow officials the power to authorise big public sector building projects.
"We need changes that will allow planning powers and infrastructure powers to be referred to the civil service at an appropriate level," he said.
"If we don't get that then unfortunately what's she's talked about will not be of any value to the construction industry.
"It's going to be very serious because I think we will, either late in the year, or next year, then see companies having to (a) look for work elsewhere and that's dangerous, and (b) they'll probably have to lay people off.
"And we've already seen that to some extent in Northern Ireland this year where I'm aware of at least one company that made redundancies on the back of the lack of decision making."
'An executive that exists to just to exist'
It is not just business leaders who say Northern Ireland needs an executive re-established.
The chair of the Community Relations Council said politicians at Stormont were letting down working class communities.
Ahead of Good Relations Week next week, Peter Osborne said: "Every single day statistically in Northern Ireland there is a suicide.
"What unites those families, apart from the grief, is that they're likely to come from working class communities and yet we don't have an anti-poverty strategy.
"We're struggling with some of the social justice issues. We lack strategies that are ambitious enough. That's what politicians should be doing - getting back to work to put legislation in place.
"But I don't want to see an Executive that exists just to exist. I want it to really tackle social and economic issues that face this community."
Rosemary Jenkinson, who wrote a play about the relationship between the DUP leader Arlene Foster and Sinn Féin northern leader Michelle O'Neill, said: "I think they'll have to work together because their legacy will be totally tainted if they never do.
"Nobody will admire them and they'll go down in history as failed politicians."