Men attacked in Keady after being 'caught short'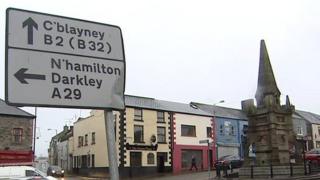 A number of men assaulted in Keady at the weekend were not burglars but had got off a bus and been "caught short", police have said.
In a post on their Armagh Facebook page police said "speculation and false narrative has been rife" about an incident in the early hours of Sunday.
They said comments on social media have both implied and stated directly that burglars "were caught by locals".
"This is not the case, nor even approaching it," the PSNI post said.
Vicious assault
"What we have are several injured males, two with very serious injuries including missing teeth. These are life-altering injuries.
"This was not 'a bit of a scrap'. This was a vicious assault."
Police said they believe the men had gotten off a bus at the wrong stop after a night out and "found themselves caught short for the loo".
They added: "Whilst that is something that should be saved for an actual toilet, or if needs be a bush out of sight rather than the side of a car, it is not something that warrants the beating they received."
Vigilante justice
They said no-one deserved to be on the receiving end of such violence and that those capable of doing so unjustifiably and on a whim should not be protected.
"There is no 'Oh but I thought…' excuse. If you make a rash call or see red and get it wrong you will answer for it," the police said.
"Vigilante justice, especially when so badly misjudged, has no place in working together and does nothing for either the name of the town nor the community as a whole," the police said.