Brexit could 're-ignite conflict' in Northern Ireland
By Tori Watson
BBC News NI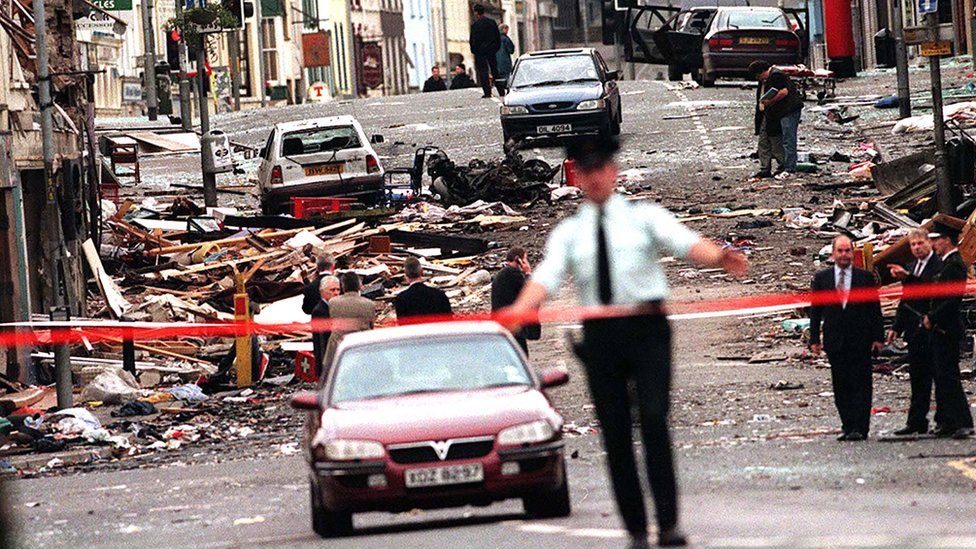 The UK's departure from the EU could re-ignite conflict in Northern Ireland, according to new research.
North-south relations, the peace process, border controls, racism and socio-economic rights will all be negatively impacted by Brexit, say legal experts.
He said the issue had been "sorted" by the Belfast Agreement.
The research was compiled by BrexitLawNI - a partnership from Queen's University Belfast, Ulster University and human rights experts from the Committee on the Administration of Justice (CAJ) - which has released six documents exploring the impact of Brexit on Northern Ireland.
Director of CAJ Brian Gormally said of the findings: "There is a real danger Brexit could re-ignite conflict here.
"As the leaving process lurches ever nearer to a 'hard' or 'no-deal Brexit' there is a risk of nationalists becoming more and more disillusioned at the disregarding of the will of the majority here, while unionists coalesce in defence of Brexit and the border," he added.
"The last thing we need is a new bone of contention between our people."
The data was compiled over the course of 18 months through a series of interviews, consultations and town-hall style events.
Some of those interviews were held with dissident republicans - members of paramilitary groups who remain armed, active and dangerous in society with the aim of reunifying Ireland.
'Mobilising agent for violence'
When questioned about the future of the Irish border, he said: "The harder the better."
The Irish border runs for 310 miles between Northern Ireland and the Republic of Ireland and about 35,000 people cross it every day.
In 1998, the Good Friday Agreement saw the removal of security checkpoints from crossing points and helped make it an all but invisible divide - something which was relatively easy to achieve due to the UK and the Republic of Ireland's shared EU membership.
According to BrexitLawNI's report, there is a "widespread consensus" from dissident republicans that it would be a "mobilising agent not only for violence and protest but also illegal smuggling activities".
The report says there has been a "remarkable shift in the prominence" of national conversation regarding the reunification of Ireland in both Northern Ireland and the Republic of Ireland.
It adds that unionists appear "reluctant" to accept that a united Ireland "is part of the political conversation in ways that it has not been before since the partition of Ireland in 1921".
Professor Rory O'Connell, Director of the Transitional Justice Institute at Ulster University, focused on this aspect of research by BrexitLawNI.
"The 1998 Agreement found nuanced solutions to difficult issues of sovereignty, identity and the border, embedding these in a rights-respecting framework," he said.
"Brexit risks unpicking these carefully, painfully-worked out solutions. These reports identify recommendations that, going forward, maintain the centrality of rights and equality."
The study also states that Brexit was a contributing factor in the collapse of the power-sharing executive, and "remains a formidable obstacle to it being re-established".