How Stormont reacted to the 2008 global financial crisis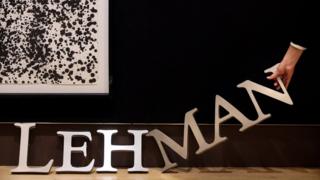 It is 10 years since the bankruptcy of Lehman Brothers sent governments scrambling to prop up their economies.
At Stormont, the Northern Ireland Assembly was in session the day after Lehman crashed. The issue was raised by then Ulster Unionist Party MLA Basil McCrea.
"Will these events affect Northern Ireland?" he asked. "Of course they will," he replied to his own question.
The Northern Ireland economy was already suffering - a house price bubble had burst and construction job losses were rapidly mounting.
The Northern Ireland Executive had reacted with measures such as the freezing of property rates.
But, speaking in the same debate, the DUP's Simon Hamilton noted the limits of what Stormont could do.
"If national governments cannot make a difference, it is very difficult for a regional assembly to do so.
"When one sees, as in the past 48 hours, the collapse of a bank the size of Lehman Brothers, and the government of the biggest economy in the world cannot do anything, one knows that one is facing grave difficulties."
Adding to the mix was some typical Stormont dysfunction.
Sinn Féin had been effectively boycotting the executive since June in protest at slow progress in the devolution of policing powers, a boycott that would continue until November.
A month after the Lehman crash, then First Minister Peter Robinson told the assembly that things were bad and were going to get worse.
"Even now, it is unlikely that we have seen the full scale of the current economic crisis. The intensity of the storm and the damage that it brings in its wake appears to travel between markets."
Mr Robinson outlined some minor measures the executive had taken and said that "used intelligently" public spending could provide some resilience to the local economy.
A government spending stimulus is the textbook approach for an economy where business and consumer spending is plummeting.
Governments can cut taxes or increase spending, running up bigger deficits, to prevent a collapse in demand.
Financial panic
But Stormont is largely constrained by the money it is allocated in the block grant and doesn't have the ability to run a deficit.
It can reallocate funds, in what are known as monitoring rounds, and the first post-Lehman allocation came at the start of November.
But then Finance Minister Nigel Dodds did not have much in the way of good news.
The impact of a civil service equal pay claim meant budgets were "constrained" and the collapse of a plan for the sale-and-leaseback of government offices meant that a £175m windfall would not be arriving.
Within two weeks, the financial panic claimed a Northern Ireland financial institution.
The Presbyterian Mutual Society was placed into administration after savers found out it wasn't covered by a government guarantee and rushed to withdraw their money.
This episode again exposed Stormont's limitations.
A bailout package for small savers was eventually drawn up with the co-operation of the UK Treasury but progress was slow.
It took until August 2011 before those savers were able to get their money back.
Familiar cry
Over the next two months, the unfolding crisis would be debated several times.
On one occasion, East Belfast MLA Dawn Purvis pointed out that Northern Ireland's problems were not necessarily made on Wall Street.
"Did we really think that a housing market in which average house prices were four or five times higher than average earnings was sustainable?
"Did we believe that such a market could last when first-time buyers could not get near the property ladder because prices were rising so quickly?"
Basil McCrea warned that a familiar cry for the banks to start lending again was doomed to fall on deaf ears.
Limited powers
"People have a go at the banks and ask why they will not lend more.
"However, the real problem - and members heard it here first - is that banks have not yet declared their real liabilities for sub-prime lending. There is more bad news to emerge."
Just before Christmas, the executive revealed its considered response in another monitoring round.
The most eye-catching policies were £15m to help low-income households with energy bills and further freezes in property rates.
The finance minister again acknowledged the limited nature of Stormont's powers and warned "there is little indication that the end is in sight".
On that point he was right - Northern Ireland would go on to have the deepest recession and slowest recovery of any UK region.