Máiría Cahill rejects 'inadequate' Sinn Féin apology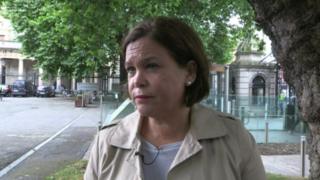 Máiría Cahill has rejected an apology from Sinn Féin as "woefully inadequate" after its leader expressed regret for how it handled her allegation of rape.
Ms Cahill alleges she was raped as a teenager by an IRA man and that Sinn Féin and the IRA tried to cover it up.
Sinn Féin leader Mary Lou McDonald apologised "unreservedly" to Ms Cahill on the same day a report criticised police investigations into the case.
But Ms Cahill replied that her apology was inadequate on several fronts.
Ms Cahill is a member of a prominent republican family and her great-uncle, Joe Cahill, was one of the founders of the Provisional IRA.
In 2010, she told the Police Service of Northern Ireland (PSNI) that she had been abused and raped by an alleged IRA member from 1997 to 1998.
Two other women also reported that they were abused by the same man, but the accused denied the allegations and the prosecution case against him collapsed in 2014.
'Bravery'
On Thursday, as the Police Ombudsman published a critical report into police officers' handling of the case, Sinn Féin responded to Ms Cahill's demand for an apology.
Ms McDonald said: "I have no doubt that the three women at the heart of this report have been through an ordeal.
"I want to commend their bravery, in particular the bravery of Máiría Cahill for waiving her anonymity.
"Sinn Féin has robust procedures in place for mandatory reporting of abuse.
"I deeply regret that these procedures were not in place at the time of Máiría Cahill's disclosure. For this I unreservedly apologise."
However, writing on her Twitter account, Ms Cahill said: "The apology from MaryLou McDonald is woefully inadequate.
"It fails to : A) Admit IRA investigation; B) Admit SF cover up of abuse; C) Apologise for her and her party's treatment of me in public.
"They told everyone that I was a liar. Now, let's hear them admit I told the truth," she wrote.
Ms Cahill claims that she told "senior Sinn Féin members" in 1997 and in 1998 that she had been sexually abused by IRA member Martin Morris, who has consistently denied the allegations.
"One of those [I told] was an advisor to Gerry Adams at the time and the other one subsequently went on to become a politician, a very senior politician," Ms Cahill said.
"They had information that he was also suspected of abusing others."
Mr Morris, who is believed to live in London, was acquitted of charges of rape and IRA membership when his trial collapsed in 2014.
Ms Cahill has further claimed that after she reported her abuse to republicans, she was interrogated by the IRA while the paramilitary group tried to find out if it was her or her alleged rapist who was telling the truth.
The police ombudsman has now stated that the police had intelligence indicating that Martin Morris was suspended from Sinn Féin in 2000, three years after the party was told about the alleged abuse.
'One hefty apology'
Earlier, Ms Cahill demanded an apology from Ms McDonald for her party's role in the alleged cover up.
"Sinn Féin have repeatedly kicked me about the media over the past four years, saying that they weren't involved in a cover up of abuse," she told the BBC.
"No one in Sinn Féin moved to suspend this man until 2000, so there's a period of three years when Sinn Féin was content to have a child abuser within its ranks with access to children.
"I think the party today really needs to say, yes, she was telling the truth.
"It has been very hard to hear Sinn Féin calling my credibility into question and I think Mary Lou McDonald owes me one hefty apology."