Drumclay Care Home, Enniskillen, to close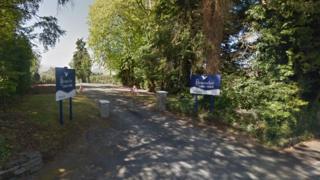 Elderly residents of a care home in Enniskillen, County Fermanagh, have been told it is to close.
Drumclay Care Home currently has 34 residents and the families affected were told about the planned closure at a meeting on Wednesday night.
Its owners said the inability to recruit enough skilled nursing staff to deliver safe care was behind the move.
A Western Health Trust spokesperson said it is "a difficult time for the residents and their families".
They added: "The trust will be working with residents, their families and Drumclay Care Home to manage the transition and find suitable alternative accommodation that meets each resident's individual needs.
"The trust will remain in regular contact with the families throughout this transition period."
'Distressing'
Drumclay Care Home was bought by its current owners, Ebbay Ltd, in March 2017.
In a statement on Thursday, they said they were announcing the likely closure "with a heavy heart".
"Despite major investment in the home, the sole reason for this closure is due to our ongoing inability to recruit the quality and quantity of skilled and experienced nursing staff required for us to deliver safe, effective and compassionate care to our residents," it added.
"We acknowledge that this is a distressing time for our residents, employees and families."
Management also confirmed that they "should be able to provide a significant proportion of our employees with suitable alternative employment".
About 40 people attended Wednesday's meeting with patients and families, according to the Impartial Reporter newspaper.
'Workforce planning'
Northern Ireland's Commissioner for Older People, Eddie Lynch, is said he will be checking that all 34 residents are suitably rehomed.
"It can be very distressing for residents to be moved from the place which they call their home," he said.
"My office has spoken to the authorities and will be seeking assurances that suitable alternative accommodation is found for all of the residents that meets their individual needs."
Mr Lynch added that he was "concerned to hear" that the closure was due to an inability to recruit skilled nurses.
"Recruiting and maintaining a stable nursing workforce has been a major challenge for care homes over the past number of years and the problem is not unique to Northern Ireland," Mr Lynch said.
"If we are to provide safe care for our growing ageing population there must be evidence of proper workforce planning."
'Cannot meet demands'
Local Ulster Unionist MLA, Rosemary Barton, described it as a "another blow to the elderly community".
Mrs Barton said it was "unlikely" that care homes in the area would be able to meet demand in "the short term".
"There will be an immediate challenge for families and the Western Trust to have the current residents of Drumclay relocated," she said.
"It is time for an overall review of domiciliary and care home requirements within the area, as it is obvious that services cannot meet demands."