RHI: DUP tried to pin blame on me for RHI, says ex-DUP Spad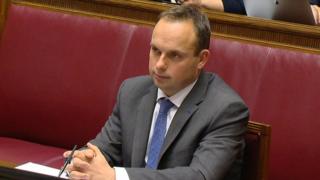 A former DUP adviser who resigned over the RHI scheme has said he believes his party worked to "pin the blame" on him for the entire debacle.
Dr Andrew Crawford was an adviser to Arlene Foster in the enterprise department when the RHI scheme was set up.
In January 2017, he quit after claims he had exerted influence to delay cost controls, allegations he denies.
He told the inquiry he was unhappy about how the DUP handled the events.
Dr Crawford resigned in mid-January 2017 after he was named by a senior civil servant, Andrew McCormick, at an assembly committee as the adviser who influenced a decision to keep the scheme open.
He still works for the DUP on its Brexit strategy, and said he did not "blame everyone in the DUP" for the fallout surrounding his resignation.
'Briefing against me'
On Thursday, Dr Crawford told the inquiry that the moment he heard his name mentioned at the committee, he texted a friend - Mark Anderson, a biomass expert who worked at Ulster University - saying: "I've been destroyed."
He added he believed he had been unfairly blamed for being responsible for the delay to bring in cost controls in summer 2015, which led to a massive spike in boiler applications and did the most damage to the public purse.
At the height of the media spotlight on RHI in December 2016 and early 2017, a course of action was taken "to put my name out there," he added.
On Tuesday, another former DUP special adviser (Spad), Timothy Cairns described politics as a "grubby world", and Dr Crawford told the inquiry he agreed with that, adding: "That's how politics works."
He added that when there was a crisis, parties looked to see "if there was somebody going to fall for it".
Mr Crawford said he felt he was being linked in the public eye or "given up".
He suggested David Gordon, who formerly oversaw communications for the Executive Office, had taken a lead in that role.
He said emails between Mr Gordon and another DUP Spad Richard Bullick, given as evidence to the inquiry, contained references to "getting the real story out".
"I believe David Gordon was very much involved in that role in terms of briefing against me to the media," he said.
Lucrative scheme
Later, Dr Crawford was asked whether a brother and two cousins, who lived within a 10-mile radius of his family home, had raised the lucrative nature of the scheme with him.
All three of them had installed biomass boilers that were accredited to the scheme - they had 11 in total.
The inquiry was told Dr Crawford's brother James got a quote for two boilers in June 2014.
It showed the RHI income over 20 years of £250,000 - and fuel savings of a further £300,000.
Inquiry counsel Joseph Aiken asked whether his brother had discussed the figures with him.
Dr Crawford said he had not.
Mr Aiken said surely his brother would have put the figures in front of him, and said: "Surely that can't be right."
Dr Crawford denied any knowledge of the document, and said he and his brother had never discussed it.
'No motivation'
Later on Thursday, Dr Crawford apologised for having forwarded his cousin, Richard Crawford, a confidential government document proposing cost controls to the RHI scheme.
It had been drawn up by departmental officials in July 2015, after they had realised the scheme was going over budget and needed to be brought under control.
One of its recommendations was to introduce tariffs to lower the level of boiler subsidies.
Dr Crawford said he had received it from the then-enterprise adviser, Timothy Cairns, who he claims had asked him for advice, given his seven years of experience working in the enterprise department.
It has emerged he later sent that submission onto his cousin, who had six boilers accredited to the scheme.
Three of them were operational when Dr Crawford forwarded the proposed changes to him in July 2015, and three others were in the process of being installed.
Asked why he did that, Dr Crawford said there was no motivation on his part to warn his cousin about proposed cost controls.
He told the inquiry his cousin had already asked questions and raised concerns about the potential impact of the changes on his existing business.
He said he was simply trying to provide "reassurance" that there would be none.
It was put to Dr Crawford that it might also have been a warning to get the three additional boilers accredited before the 1 October deadline, to ensure that they too were eligible for the most lucrative tariffs.
Dr Crawford denied that and said the information about what was going on was already being discussed within the poultry industry.
Inquiry chair Sir Patrick Coghlin said it was pretty clear what had happened.
He said Dr Crawford had seen no difficulty in passing on a draft policy to his relative, which still had not been approved by the minister, because the details were already out there.
Dr Crawford said: "Yes, and I apologise I shouldn't have done it."
"Yes, I've got that thank you very much," Sir Patrick replied.
Who is Andrew Crawford?
A son of a farmer from Beragh in County Tyrone, Dr Andrew Crawford is a former employee of the Ulster Farmers' Union.
He was an assistant to the former DUP MEP Jim Allister before the North Antrim politician quit to form the Traditional Unionist Voice (TUV).
Dr Crawford was an adviser to Arlene Foster when she was enterprise minister during the time the RHI scheme was created, and followed her to the Department of Finance and Personnel in 2015.
When Mrs Foster became first minister in 2016, Dr Crawford then advised another DUP minister, Michelle McIlveen in the Department of Agriculture, Environment and Rural Affairs.
Dr Crawford's poultry farmer brother is a claimant of the RHI scheme.
'Heating empty sheds'
In an email to another DUP adviser, Timothy Cairns, in July 2015, Dr Crawford pointed out that the "problem" with the RHI scheme was that it was offering subsidies that were so lucrative that claimants were being paid to heat empty sheds.
On Thursday afternoon, Dr Crawford told the inquiry that remark stemmed from a conversation he had with a boiler installer at his brother's poultry unit.
He said David Robinson of R&S Biomass told him of the allegation, when the pair met while Mr Robinson was fitting out James Crawford's poultry house with a hot water heating system and boiler.
Dr Crawford said he could not remember how the conversation had come up.
Mr Aiken suggested it may have been because the installer was pointing out to Dr Crawford that RHI was so lucrative that people were heating empty poultry sheds.
The conversation is said to have happened in mid-July 2015.
Dr Crawford reported the concerns to the Enterprise Department's most senior civil servant, Andrew McCormick.
Later, Dr Crawford was asked why he suggested Mr Cairns meet Moy Park officials to get an industry view on proposed changes to bring the RHI scheme under control that summer.
He said that with Mr Cairns being new to the Enterprise Department, he would have been unaware of Moy Park's production model.
Poultry farmers make up a significant share of the claimants on the RHI scheme - almost all of them supply Moy Park.
'Commercial assistance'
Mr Cairns has told the inquiry he was uncomfortable with that suggestion and did not take it up because there was a risk that details of a policy under consideration might be compromised.
But Dr Crawford said he did not take that view: "I believe as the role of adviser you should be gathering information outside of what normal civil servants would do."
But Sir Patrick asked: "What happens if someone from whom you are gathering information asks you for information, commercial assistance?"
"That's where you have to be careful," Dr Crawford replied.
Sir Patrick put it to him that it was not as straight-forward as gathering information for political purposes.
"No, but it doesn't mean you don't speak to anyone outside (of the department)," added Dr Crawford.
'Tsunami of applications'
The inquiry also heard that Dr Crawford had "tried to warn" his colleagues there was a big spike in boiler applications coming in summer 2015.
He described it as a "tsunami" and said he alerted Mr Cairns.
Officials already knew there had been a growing number of applications in the spring, and from his contact with the boiler industry Dr Crawford knew many more applications were in the system.
Dr Crawford said he could not remember if he had also told his own minister Arlene Foster about the problem.
She had been the enterprise minister when the RHI scheme was set up, but in May 2015 she moved to take over finance.
Inquiry counsel Joseph Aiken said: "She can, she says you didn't."
Inquiry panellist Dr Keith MacLean said he found that most unusual.
He said it could have had implications for public finances, which would have come under Mrs Foster's brief.
But he suggested that it could also have reflected badly on her, in that it was a scheme for which she had responsibility until recently.
Another panel member, Dame Una O'Brien remarked that it could "only be one or the other".
Dr Crawford told the panel he did not intentionally keep the information from Mrs Foster, but he also could not say with certainty that he had definitely updated her on the matter.
He will give evidence to the inquiry again on Friday.