James Hughes manslaughter: Indeterminate jail time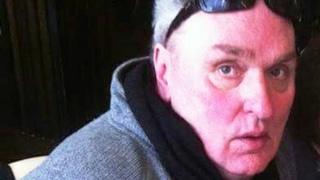 A west Belfast man who stabbed his neighbour 33 times will spend at least eight years in jail for the killing.
James Brendan Patrick Devine, 44, of Divis Tower, received an indeterminate custodial sentence for the manslaughter of 62-year-old James Hughes.
He had consumed medication and tonic wine before stabbing Mr Hughes and stealing £6,000 cash from him at a flat in Divis Tower in November 2016.
Mr Justice Colton described the death as "brutal and unnecessary".
Devine, who was diagnosed with paranoid schizophrenia in 2006, has a history of violent offending, including stabbing two fellow residents at a hostel.
Mr Hughes was last seen on the evening of 4 November and, two days later, Devine handed his sister a wad of cash, told her it was his savings and asked her to take it, saying, "Where I am going, I'll not need it."
Over dinner, he told his sister he stabbed Seamus - the name he knew the deceased by - and said: "I stabbed him and I stabbed him."
During this confession, Devine said Mr Hughes was begging for his life, but that he couldn't stop.
His sister contacted the PSNI, and Devine was arrested in Ballymoney on the evening of 6 November and brought back to Belfast for questioning.
The court heard that earlier that morning, Devine called his mother and told her he had blood all over his coat as he had "stabbed a boy to death".
When police attended Mr Hughes' flat at Divis Tower, they noticed the front door had been forced open, and saw a trail of blood from the front door to the kitchen, where Mr Hughes' body was found.
Diminished responsibility
Following his arrest, the court heard that while he was initially compliant, Devine lashed out and was verbally abusive to officers.
He made a number of comments to police, including saying, "I murdered him, I killed a man, I have to own up to it. I killed him because I had to".
While Devine was initially charged with murder, a plea to manslaughter on the grounds of diminished responsibility was accepted by the Crown.
'A well-read, thoughtful human being'
In passing sentence, Mr Justice Colton said: "It is clear from the statements of his close relatives that James Hughes was a well read, thoughtful human being committed to the Buddhist philosophy of peace, which makes his violent death all the more poignant."
Mr Justice Colton also said he was taking into account the fact that Devine was "well aware" the impact alcohol had upon him, that he entered his neighbour's home and stabbed him multiple times and the deceased "pleaded for his life, but that didn't stop him." The Judge noted Devine also stole money from his friend.
After handing Devine the minimum eight-year term, Mr Justice Colton concluded by saying that if and when Devine is released, safeguards will be imposed to protect the public.
"Even if he is released on licence, he will be liable to be recalled to prison if at any time he does not comply with the terms of that licence," the judge told the court.