NI Newspapers: Cahill failed by police and RHI pressure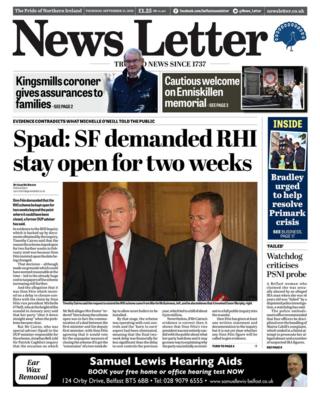 The Belfast Telegraph leads with the headline 'Watchdog condemns PSNI over Cahill sex abuse case'.
It quotes a damning report by the Police Ombudsman which says the PSNI "failed" Máiría Cahill and other victims of abuse.
Chief Constable George Hamilton last night apologised "unequivocally for the hurt and distress caused".
In 2010, Ms Cahill, originally from west Belfast, told police she had been sexually abused by Martin Morris from 1997 to 1998, when she was aged 16, and that she was later subjected to an IRA 'investigation'.
Ombudsman Dr Michael Maguire found that the RUC had information about the alleged abuse 10 years before Ms Cahill's report, but it did not act.
In a moving editorial, Ms Cahill writes: "It's been 20 years since I was sexually abused - more than half my lifetime.
"I struggle sometimes to remember what life was like before... I've been let down by almost everybody in relation to my case."
She added: "At no point in the last four years since I went public did Sinn Féin admit that my abuser, as well as being an IRA man, was also a Sinn Féin party member."
'New pressure'
The Irish News front page reads 'Ex-DUP aide's RHI claims pile pressure on Foster'.
It says new pressure is mounting on DUP leader Arlene Foster after the RHI inquiry heard claims she knew her special advisers were closely involved in the botched scheme.
Former DUP spad Timothy Cairns, who worked with ex-enterprise minister Jonathan Bell, claimed other party advisers were heavily involved in decisions to delay the imposition of cost controls to the green energy scheme.
The paper also carries a two-page spread on a Whitehall meeting of high-profile Brexiteers - the European Research Group (ERG).
The ERG blueprint set out proposals for ensuring free-flowing trade across the border on Wednesday.
It received "a largely negative response on this side of the sea", says the paper.
'Brexiteers' blueprint blasted by all parties - except DUP' reads the headline.
In an analysis piece, political correspondent John Manley writes: "The ERG proposals claim to offer a 'common sense' solution that will ensure ties with Brussels are properly severed, leaving Britain free to strike trade deals across the world.
"Yet it also believes the EU will be able to maintain the integrity of its internal market.
"Squaring circles and having cake while eating it are idioms that spring to mind while digesting its contents."
The News Letter continues its coverage of the RHI inquiry with the headline 'Spad: SF demanded RHI stay open for two weeks'.
It quotes former DUP adviser Timothy Cairn's claim, backed up by documents obtained by the inquiry, that Sinn Féin demanded that the RHI scheme be kept open for two weeks beyond the point where it could have been closed.
"That decision - although made on grounds which could have seemed reasonable at the time - led to the already huge cost to the taxpayers of the scheme increasing still further.
"And the allegation that it was Sinn Féin which insisted on a delay to the closure conflicts with the claim by the Sinn Féin vice president, Michelle O'Neill, who a the height of the scandal in January 2017 said her party 'shut it down straight away' when the problems became clear."
The Daily Mirror quotes Hospitality Ulster chief executive Colin Neill, who said the Primark fire is "probably the biggest threat to Belfast since the Troubles".
Speaking after he, as well as the Belfast Chamber of Commerce and Retail NI met Secretary of State Karen Bradley on Wednesday to ask for a Treasury rescue package.
Mr Neil is quoted as saying: "It can take two or three months to get an insurance claim, and what do [those affected] do in the meantime?
"In the longer term, those inside the cordon are better off than those outside - they will get an insurance claim.
"To the small guy this is bigger than what Primark are suffering - it's the difference between life and death."
Mr Neill suggests footfall in the area is down 70-80 percent and that many small businesses could be permanently lost.