Londonderry shooting was 'sickening and brutal attack'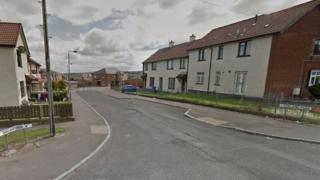 Police investigating the paramilitary style shooting of a man in Londonderry say the victim has been left with potentially life-changing injuries.
A man in his 20s was shot three times in the legs in the Creggan area at about 21:30 BST on Wednesday.
Det Sgt Bobby Singleton described the incident as a "sickening and brutal attack."
A woman and two children were in the house at the time of the shooting.
Police said they were left shaken by the incident.
"These attacks are barbaric and are about people cementing their own status and control over communities," Det Sgt Singleton said.
"Nothing gives these people the right to violate the human rights of others."
He added: "This was a sickening and brutal attack and yet another example of how criminal groups seek to control communities through fear and violence. This man's injuries may well be life-changing."
Sinn Féin councillor Kevin Campbell said he "utterly condemned" the shooting.
"These actions should stop immediately and those responsible should pack up and get off the backs of the community," he said.
"Anyone with information on this shooting should bring it forward to the police immediately."
The PSNI is appealing for witness.