Máiría Cahill: PSNI failed women over IRA sex abuse claims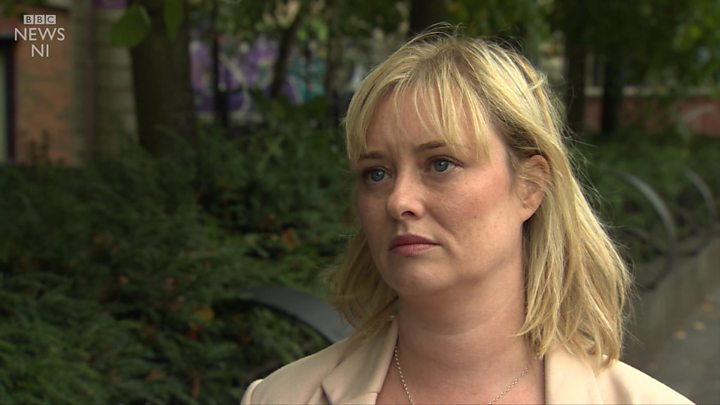 The police failed three women who said they were were sexually abused by a senior member of the IRA when they were teenagers, according to a report.
Máiría Cahill, a member of a prominent republican family, told police in 2010 she had been raped. Two other women said they were abused by the same man.
The chief constable has apologised for the women's "hurt and distress".
Meanwhile, Sinn Féin has apologised to Ms Cahill over the party's handling of the issue when she first reported rape.
Party leader Mary Lou McDonald also commended all three women for their "bravery" in reporting abuse, adding "in particular the bravery of Mairia Cahill for waiving her anonymity".
Three Police Service of Northern Ireland (PSNI) officers have been disciplined as a result of the Police Ombudman's findings.
A fourth officer who would have faced disciplinary action has retired.
In a statement, Chief Constable George Hamilton said PSNI investigations "fell very short of the high expectation that I and my officers set ourselves and the public expect".
He apologised "unequivocally for the hurt and distress" caused to the women.
'Scandalous' failings
The Police Ombudsman said the PSNI failed the women "in a number of key areas".
Dr Michael Maguire also said the RUC, Northern Ireland's police force before the PSNI was formed in 2001, had information about allegations of child abuse by an IRA member 10 years before the complaints were made but failed to act.
However, he rejected claims the police failure to investigate was motivated by a desire to protect informants within the IRA.
Describing the police failings as "scandalous", Máiría Cahill has called on PSNI Chief Constable George Hamilton to apologise and to meet her "as a matter of urgency" to discuss the case.
Ms Cahill told police she had been abused and raped by an alleged IRA member called Martin Morris from 1997 to 1998.
Her great-uncle, Joe Cahill, was one of the founders of the Provisional IRA.
She told BBC Northern Ireland's Spotlight programme in October 2014 that the IRA interrogated her on a number of occasions about the allegations and covered up what happened.
Martin Morris, who is believed to live in London, has always denied the allegations and was acquitted of charges of rape and IRA membership when his trial collapsed in 2014.
Four other alleged IRA members, who it was claimed interrogated Ms Cahill, were also acquitted of all charges against them.
The trial collapsed when the women withdrew their evidence, saying they had lost confidence in the criminal justice system.
The three women later received an apology from the Public Prosecution Service after an independent review strongly criticised how the case was handled.
The Police Ombudsman said they were failed by the police.
Dr Michael Maguire described the PSNI investigation as "disjointed" and "inconsistent".
RUC criticised
He criticised a decision to split the investigation across two units, one with expertise in terrorist cases and another specialising in dealing with victims of sexual assault.
But he rejected allegations that "anyone was protected from prosecution" or that the investigation was "subject to adverse political interference".
The ombudsman is also critical of the RUC, the PSNI's predecessor.
Dr Maguire said his investigators established that the RUC received information in 2000 that linked a man to the alleged abuse of children and that the IRA had investigated the allegations.
"However, when the RUC received this intelligence it was not disseminated and there is no evidence of any police investigation or inquiries as a result of it," he said in a statement.
"The material was sufficiently specific that had police undertaken even cursory inquiries they could have identified potential victims of abuse."
When the report was published, Máiría Cahill said she had been vindicated by the findings and was owed an apology.
"I've been let down badly by both aspects of the criminal justice system, both the PPS and the police in relation to this," she told BBC News NI.
"I don't think there are excuses that can be given at this stage around that.
"I am never going to achieve a conviction in a court of law for what happened to me, but I think that lessons absolutely have to be learned and I'm calling on the chief constable to apologise."
As well as apologising to the three women, PSNI Chief Constable George Hamilton accepted the watchdog's conclusions and said the Police Ombudsman was "an essential part of the mechanisms by which we can be held to account".
He said the report found "failures by the RUC in 2002, to share vital information which linked a man to the alleged abuse of children" and that it "noted other failures in the PSNI's investigations".
"I accept the report and we have since implemented all the recommendation made by the PONI (Police Ombudsman Northern Ireland) for changes to PSNI policies."
He added there had "been many changes to the PSNI since this report was made" including the introduction of a dedicated public protection branch in 2015.
'One hefty apology'
Earlier, Ms Cahill had also called on the Sinn Féin leader, Ms McDonald, to apologise for the party's role in a cover up.
In a letter setting out his findings, the ombudsman said the police had intelligence indicating that Martin Morris was suspended from Sinn Féin in 2000, three years after the party was told about the alleged abuse.
"Sinn Féin have repeatedly kicked me about the media over the past four years, saying that they weren't involved in a cover up of abuse," Ms Cahill told the BBC.
"I told senior Sinn Féin members about my abuse in 1997 and in 1998.
"One of those was an advisor to Gerry Adams at the time and the other one subsequently went on to become a politician, a very senior politician.
"They had information that he was also suspected of abusing others."
She added: "No one in Sinn Féin moved to suspend this man until 2000, so there's a period of three years when Sinn Féin was content to have a child abuser within its ranks with access to children.
"I think the party today really needs to say, yes, she was telling the truth.
"It has been very hard to hear Sinn Féin calling my credibility into question and I think Mary Lou McDonald owes me one hefty apology."
'Deep regret'
On Thursday, Ms McDonald said she had "no doubt" that the three women "have been through an ordeal".
"I want to commend their bravery, in particular the bravery of Máiría Cahill for waiving her anonymity," she added.
"Sinn Féin has robust procedures in place for mandatory reporting of abuse.
"I deeply regret that these procedures were not in place at the time of Máiría Cahill's disclosure. For this I unreservedly apologise."
The Sinn Féin leader added: "I wish Máiría Cahill every best wish for the future."