NI Same-sex couples face 'unlawful discrimination', court hears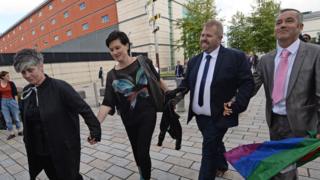 Same-sex couples denied the opportunity to marry in Northern Ireland are being subjected to unlawful discrimination, the Court of Appeal has heard.
The claim came as two gay couples renewed their legal challenge to the ban on them getting married.
Unlike England, Scotland, Wales and the Republic of Ireland, same-sex marriage is not legal in Northern Ireland.
Last year, the High Court dismissed two cases challenging the ban.
On Wednesday, senior judges were told that a failure to introduce rights available to those living in the rest of the United Kingdom cannot be justified.
Ronan Lavery QC argued that the failure by the state to include the people of Northern Ireland in same-sex marriage legislation breached their human rights.
"It's unlawful discrimination against the applicants on the basis of their sexuality," he contended.
Although the challenge is being taken against Stormont's Department of Finance, the two couples' legal representatives insisted there was a "pan-UK basis" for the case, given the continued absence of a functioning Northern Ireland Executive.
A barrister representing the Department of Finance, Tony McGleenan QC, told the court the legitimate aim of the ban was about preserving traditional marriage.
He accepted differential treatment between heterosexual and same-sex couples and argued that provisions are made for same-sex couples through the availability of civil partnerships.
The case
Grainne Close and her partner Shannon Sickles, along with Chris and Henry Flanagan-Kane, are seeking to overturn a ruling that the prohibition does not breach their human rights under European law.
In 2005, they became the first couples in the UK to enter civil partnerships, when Northern Ireland was the first part of the UK to introduce the ceremonies for gay and lesbian couples.
But the couples last year legally challenged Stormont's refusal to legislate for same-sex marriage.
The judge dismissed the case, finding that it was a matter for the Stormont administration rather than the courts.
The court also heard from the Attorney General, John Larkin QC who argued that the applicants "lacked legal standing" to bring the action.
"What we are dealing with is not an act of the Assembly," he told the three judges.
Narrow majority
Prior to the collapse of devolution MLAs held a number of votes on the issue - with a narrow majority in favour of the move back in November 2015.
However, the Democratic Unionist Party deployed a petition of concern mechanism to block the motion.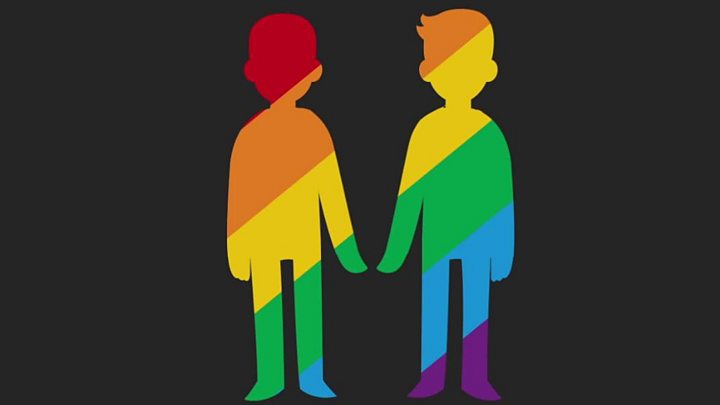 The court heard that 15 out of close to 50 jurisdictions within the Council of Europe have now introduced same-sex marriage.
But Strasbourg has left it up to individual states to decide their own policy.
Timeline of same-sex marriage: