Enniskillen bomb: Solution reached for site of memorial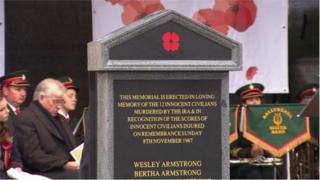 A solution has been reached on where to site a memorial to the victims of an IRA bomb on Remembrance Sunday, 1987.
Twelve people were killed and 68 others were injured in the bombing in Enniskillen, County Fermanagh.
A memorial was unveiled at an event marking 30 years since the attack.
But it was taken down and put into storage after the Catholic diocese which owns the land it was on said it had not been consulted by the council.
St Michael's Diocesan Trust formally rejected the proposed memorial in March.
On Tuesday, the groups involved met to discuss the memorial and it was agreed to place it within the gable wall of the Clinton Centre.
In a statement, the Dean of Enniskillen Cathedral, the Very Rev Kenneth Hall, said: "Good progress has been made and a solution has been reached by all parties involved to site the memorial within the gable wall of the Clinton Centre subject to necessary approvals."
But he added that the parties "envisage that this work will take time".
He said that all parties are committed to work together to complete to resolve the issue "within a reasonable time scale".
On Wednesday, St Michael's Diocesan Trust said in a statement that it "welcomed" the solution that had been reached.
"The events in Enniskillen on Remembrance Sunday in 1987 must be suitably remembered," it said.
"We look forward to the parties concluding the work regarding outstanding technical matters as soon as possible."