RHI: Andrew Crawford claims he 'was expendable' to DUP over RHI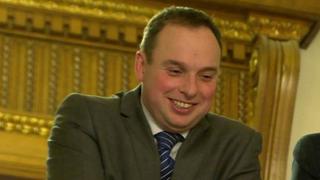 A former DUP adviser who resigned at the height of the RHI scandal has said he may have been "expendable", while other party advisers may not have been.
Dr Andrew Crawford was an adviser to Arlene Foster in the enterprise department when the RHI scheme was set up.
In January 2017, he resigned after claims he had exerted influence to delay cost controls, claims he denies.
Dr Crawford is due to give evidence to the inquiry on Thursday.
The inquiry has heard a number of allegations that he and another senior DUP official, Timothy Johnston, were involved in seeking to delay the introduction of tiered tariffs.
In his witness statement, published on Wednesday, Dr Crawford said he never suggested a delay to anyone "at an official or political level", and that he would not have felt it appropriate.
'Quick to defend'
In January 2017, Dr Crawford was named by a senior civil servant, Andrew McCormick, as the adviser who influenced a decision to keep the scheme open.
Dr Crawford subsequently resigned, but denied any wrongdoing.
In his witness statement, he said when the problems with the scheme became public knowledge in December 2016 and January 2017, "the party was quick to defend" Mr Johnston in a way they did not defend him.
Dr Crawford said he felt "there did appear to be attempts made to distance Timothy Johnston from any involvement", and that by contrast, steps were not taken to "contradict or expel the narrative" that Dr Crawford was responsible for the delay.
He points out that he does not know what involvement, if any, Mr Johnston had with the RHI scheme or "what motive he may have had" for being involved.
He states that he believes neither himself nor Mr Johnston tried to delay cost controls.
Who is Andrew Crawford?
A son of a farmer from Beragh in County Tyrone, Dr Andrew Crawford is a former employee of the Ulster Farmers' Union.
He was an assistant to the former DUP MEP Jim Allister before the North Antrim politician quit to form the Traditional Unionist Voice (TUV).
Dr Crawford was an adviser to Arlene Foster when she was enterprise minister during the time the RHI scheme was created, and followed her to the Department of Finance and Personnel in 2015.
When Mrs Foster became first minister in 2016, Dr Crawford then advised another DUP minister, Michelle McIlveen in the Department of Agriculture, Environment and Rural Affairs.
Dr Crawford's poultry-farmer brother is a claimant of the RHI scheme.
'Negative publicity'
He has told the inquiry he believes it was another DUP adviser, Timothy Cairns, who sought the delay due to his concern about "negative publicity" for the enterprise department.
Mr Cairns was then-adviser to enterprise minister Jonathan Bell, who had already faced criticism for the closure of a wind energy scheme.
The two men had a strained working relationship, as already outlined to the inquiry.
Because of this, Dr Crawford claims, Mr Cairns was concerned he could lose his position as an adviser if he "wasn't careful" in how he handled changes to the RHI scheme.
But Mr Cairns has denied this allegation in his evidence to the RHI inquiry.
Also in his witness statement, Dr Crawford said he believes those dealing with the fallout from RHI in the DUP acquiesced in the naming of him as the primary instigator of the delay.
He also said he did not see "any attempt" from the party to tell Dr McCormick that Dr Crawford had denied the allegation on numerous occasions.
'Upsetting'
In his evidence, Dr Crawford refers to a statement made by Arlene Foster in the assembly on 19 December 2016 about the RHI scheme and her party's handling of it.
In her speech, she said the party had investigated claims about cost control delays, and that any attempts to do that had not been made by ministers or party officers.
The former Spad said he felt "the speech was constructed in such a way that it allowed the interpretation that I had been involved, rather than conveying my strong denial of any involvement".
Dr Crawford told the inquiry that he found that "particularly upsetting".
He claimed none of the DUP's "key players" - who he identified as Richard Bullick, Timothy Johnston, John Robinson, Arlene Foster and Simon Hamilton - came to him "to discuss the matter in depth and ask for my version of events as part of the 'investigation'".
He later raised his concerns about that speech with all of them, he added.
Dr Crawford is due to give evidence to the inquiry on Thursday and Friday.