Cancer drugs: Greater access for patients in Northern Ireland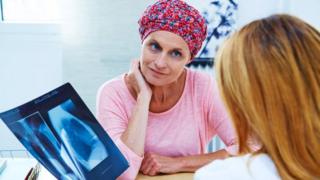 Cancer patients in Northern Ireland are to have the same access to drugs currently being offered to patients in the rest of the UK.
Cancer charities and patients told BBC News NI that the move has been a long time coming.
However, they added that sadly many patients who campaigned for change have since died.
The move does not mean that Northern Ireland has a Cancer Drugs Fund, which only exists in England.
Up until now some patients with cancer and other conditions were denied access to certain drugs mainly due to cost.
Both Cancer Focus NI and Macmillan Cancer Support welcomed the move but said it's been a long and difficult process to get to this point.
Heather Monteverde, head of services for Macmillan Cancer Support, said equal access to innovative and effective cancer drugs is important.
"The announcement is a positive step forward towards an accessible, effective and transparent process for both patients and clinicians", she said.
This move by the Department of Health means they can now apply for new medicines which could extend life or in some cases radically improve the quality of life.
According to the department, the changes to the Individual Funding Request (IFR) process follow an "extensive evaluation and public consultation exercise and fulfil a ministerial commitment to place clinical expertise at the heart of the sensitive and important decision making process."
As there is no minister in place to make the decision, the move has come as a surprise to many charities and campaigners.
When asked by BBC News NI how it was possible, the Department of Health said the process had begun several years ago when the then health minister, Edwin Poots commissioned an evaluation of the IFR process.
Simon Hamilton, who succeeded Mr Poots as health minister, publically committed to increasing access to specialist drugs, and in 2017 the most recent health minister, Michelle O'Neill, launched a public consultation on the IFR process.
The Department of Health's permanent secretary, Richard Pengelly, said he was delighted that Northern Ireland patients will now have the same access to cancer drugs as their counterparts in other UK regions.
The medicines will be prescribed by clinicians in hospitals in line with clinical guidelines.
The department says the new arrangements will cost between £2m and £2.5m per year.
The announcement comes just hours before local cancer charities were due to give evidence to the Northern Ireland Affairs committee about cancer drug funding.