WW2 hero's death: NI veteran's encounter with 'Nazi criminal'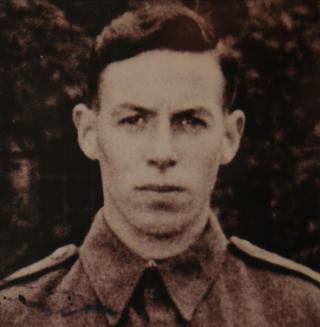 World War Two hero Hugh Maguire, from County Fermanagh, will be buried on Thursday.
The 98-year-old was one of the last known surviving member of the 2nd Battalion Royal Ulster Rifles who took part in the D-Day landings.
He received the Legion d'Honneur, France's highest honour for bravery, in 2015, and the UK gallantry medal.
Years after capturing a notorious Nazi SS officer, the pair ended up working for the same Scottish coal company.
The captured soldier was Anton Gecas, a platoon commander with the 12th police battalion, which killed tens of thousands of Jewish civilians during the Second World War.
Mr Gecas would go on to work for the National Coal Board in Scotland as an engineer, at the same time as Hugh Maguire.
Speaking ahead of her father's funeral, Mr Maguire's daughter Maria Martin told BBC News NI: "He had a zest for life and he led a very enriched life."
She said he will be "sorely missed by his beloved family and numerous friends who delighted in his witty, wicked sense of humour".
Mr Maguire grew up in Drumboughlin, Maguiresbridge, County Fermanagh, but lived in Loanhead, Midlothian, for most of his life after returning from war. He later moved to nearby Armadale.
He died peacefully on 29 August.
A piper and bugler from the Royal Irish Regiment will play at his funeral on Thursday morning.
A spokesperson for the Royal Ulster Rifles Association London Branch described Mr Maguire as "a great character".
Mr Maguire became a member of Scottish War Blinded, a free support network for ex-service men and women with visual impairments, after developing significant sight loss later in life.
Rebecca Barr, head of Scottish War Blinded, said: "It was with great sadness that we received the news of Mr Hugh Maguire's death.
"Mr Maguire was very well respected for his gallantry and bravery during his military service, and he will be much missed by the many veterans and the staff team at Scottish War Blinded who knew him."
Bravery
Three days after landing on Sword Beach on 6 June 1944, Mr Maguire performed a reportedly a heroic act of courage as the regiment advanced towards the important strategic city of Caen.
In an account to the Scottish War Blinded before his death Mr Maguire said: "We moved on to Hill 60 and it wasn't long before the German artillery opened up on us.
"A good mate of mine took a direct hit and was blown to pieces. I was blown 12 feet in the air and had shrapnel in my back, neck and shoulders.
"A corporal tried to send me to first aid but I told him that I'd never refused an order in my life and asked permission to take down the machine gun position that had peppered us that morning. He looked at me and said that I wasn't to blame him if I got shot, I said that was OK as I wouldn't be there to worry about it.
"I crawled my way up to side of the machine gun post and shouted at them to surrender. I shot two of them as they turned their guns towards me, everything happened very quickly. The other two surrendered, one of them an SS Officer, who I marched back to headquarters."
The captured soldier was Anton Gecas who, operating under his wartime name of Antanas Gecevicius, had commanded a platoon of the 2nd Company of the 12th Lithuanian Police Auxiliary Battalion.
Mr Gecas was the head of a special police battalion responsible for the murder of tens of thousands of Jews, partisans and Communist Party members in Lithuania and Belarus in 1941.
Mr Gecas died in 2001 and was never brought to trial.
In 1960, Mr Gecas and Mr Maguire came face to face once again when both were employed by the National Coal Board.
Mr Gecas, who was going by the name of Tony, denied they had previously met.
"I reported him to the police but they told me he had immunity," he said.
"What could I do? I couldn't take a case up against him."