RHI: DUP advisers in dispute over delay to RHI cost controls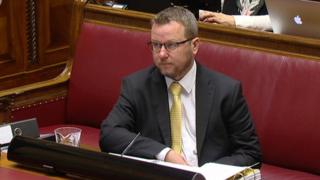 Two former DUP special advisers (Spads) have disputed events at a meeting in which it was claimed one told the other that cost controls would not be introduced to the RHI scheme.
Timothy Cairns alleged the DUP's most senior official, Timothy Johnston, made the comment.
Mr Johnston said he did not give the instruction at the June 2015 meeting.
Mr Cairns was Jonathan Bell's Spad at the enterprise department when applications to the scheme spiralled.
He is giving two days of evidence to the Renewable Heat Incentive (RHI) inquiry, which was set up to investigate what went wrong with the flawed energy scheme.
The inquiry heard the meeting was held on 26 June 2015, to "clear the air" between Mr Cairns and Mr Bell, after the pair had a major row in London.
After that item was addressed, Mr Cairns said the issue of RHI was raised.
Mr Johnston, who is now the DUP's chief executive, has a completely contrasting account of the meeting.
He claims it was also attended by the then First Minister, Peter Robinson, something Mr Cairns has rejected.
'Not going to the sword'
By summer 2015, officials in the Enterprise Department were aware of the major problems with the scheme, but cost controls were not implemented until November 2015.
The delay allowed hundreds of extra boilers into the lucrative scheme, and added a huge potential burden to the public purse until the subsidy payments were heavily cut.
Mr Cairns told the inquiry he believed that during the June meeting, Mr Johnston said tariff controls were not to be introduced.
He also said he was told to work with Andrew Crawford, who had been Arlene Foster's Spad when she was enterprise minister and had an understanding of RHI, to look at an alternative.
He added however, that it was only his recollection of events and he was "not going to the sword on it".
Junior counsel to the inquiry, Donal Lunny, read from Mr Johnston's witness statement, which has not yet been published.
He said Mr Johnston claimed RHI had not come up at the meeting: "I did not instruct or suggest at any point to Mr Cairns that tariff controls would not be introduced, the details of which I was unfamiliar with at this time."
'Grubby world'
Earlier in Tuesday's hearing, Mr Cairns admitted he was prepared to go along with the party's narrative about RHI when details of the flawed scheme emerged in December 2016.
Last week, Jonathan Bell claimed he had been the victim of a "smear campaign" by the DUP when he spoke out about problems with RHI.
Mr Cairns told the inquiry that politics was a "grubby world".
He said he was prepared to go along with the party's version of events, but denied that his involvement amounted to Mr Bell's claims of a "smear campaign".
The inquiry heard Mr Cairns sent a text message to another DUP special adviser (Spad), Richard Bullick, in December 2016, saying he believed Jonathan Bell "needs to be exposed" for his behaviour as a minister", but "I can't expose my part without putting the boot into PR" (Peter Robinson).
'Rather unpleasant'
Mr Cairns provided witness statements to the RHI inquiry claiming he raised allegations of bullying from Jonathan Bell with Peter Robinson when he was first minister, but that Mr Robinson did nothing about it, and "protected" Mr Bell.
Mr Cairns said he was prepared to give a statement to his party setting out his allegations against Mr Bell for use in the media.
But he also believed that former party leader Peter Robinson was at fault for failing to deal with allegations against Mr Bell which had been brought to him.
Mr Cairns said he wanted to be critical of Mr Robinson in his account, but he understood the party might not want that to happen.
He said he was prepared to "take the party line" if that was what was required.
Inquiry chair Sir Patrick Coghlin said Mr Cairns was prepared to modify his account to protect Peter Robinson and that it "seems a rather unpleasant way to run a party".
Mr Cairns replied that that was a question for the DUP to answer, and that he went with the party's line at the time as he "just wanted to be out of the public eye".
"That's politics I'm afraid, it's a grubby world," added Mr Cairns.
Sir Patrick replied that was something of "an understatement".
'Top of the tree'
Also on Tuesday, Mr Cairns said Timothy Johnston was "very much top of the tree" in the DUP and that there was a hierarchy of advisers in the party.
He told the inquiry there was not one DUP elected representative, special adviser or employee who did not recognise Mr Johnston's power.
The senior official served as special adviser to three first ministers and became the DUP's chief executive last year.
Mr Cairns said Mr Johnston operated well beyond the responsibilities of an adviser and his influence was "seen from the party top to bottom".
Among his jobs were dealing with staff absences and performance reviews and chairing weekly party meetings.
Mr Johnston and the DUP leader, Arlene Foster, have both said in their evidence to the inquiry that there was not a "hierarchy" of special advisers.
But Mrs Foster has acknowledged that the first minister's special advisers were given more weight.
Cost control delays
In his witness statements to the inquiry, Mr Cairns said that a day before Arlene Foster told the BBC that Timothy Johnston had no role in delaying RHI cost controls, she was told he had been involved.
In December 2016, Arlene Foster was asked by Stephen Nolan whether Mr Johnston had any role in delaying subsidy cuts.
She said he had not - but Mr Cairns claimed he told her of Mr Johnston's role the day before.
He set out Mr Johnston's role in a conference call to which Mrs Foster and Mr Johnston and another DUP special adviser (Spad) Richard Bullick were all parties.
In his witness statement, he said he mentioned that Mr Johnston had told him to liaise with Mrs Foster's then Spad Andrew Crawford to develop a party position on the introduction of cost controls.
"Mr Johnston clearly became uncomfortable and the conversation was quickly brought to an end," Mr Cairns said.
'Undermined'
"Mr Bullick also informed me that Mr Johnston was uncomfortable with my discussion because up until that point he was adamant that he had played no role in RHI.
"However, my revelation had undermined his position."
Mr Cairns said he did not believe that Arlene Foster "in either her Nolan interview or in her (assembly) statement, fully expressed the view I had stated to her in the speaker phone call that Mr Johnston had given, at least initial, direction in this matter".
He also said he had conversations with Dr Crawford about the scheme as requested by Timothy Johnston, due to Dr Crawford's knowledge about RHI.
Mr Cairns said he spoke to Dr Crawford several times about the date for applying cost controls to the scheme and the overspend on the budget - and that Arlene Foster had also been present with the pair during a meeting about the scheme in June 2015.
Mrs Foster is likely to be asked to explain her role in both the meeting and the conference call when she returns to give evidence in the coming weeks.
'Breakfast at Tiffany's'
The evidence also includes a text message Mr Cairns sent to another former DUP special adviser, Richard Bullick, in December 2016, about difficulties with Mr Bell.
The message alleged on one occasion that Mr Bell "got so drunk me and his PS (private secretary) carried him to hotel in NYC".
Mr Cairns told the inquiry the text related to a trip he went on with Mr Bell and other departmental officials to New York, where on one evening the former minister became intoxicated and "fell asleep in the pub".
Who is Timothy Cairns?
Timothy Cairns became Jonathan Bell's adviser at the Enterprise Department in May 2015.
In Mr Bell's evidence to the inquiry, he admitted he had not chosen Mr Cairns to advise him, but signed a pre-written letter from the DUP confirming the selection.
It has emerged that the pair had a difficult working relationship throughout their time together at Stormont.
Mr Cairns previously worked as an aide to Peter Robinson when he was first minister, but left his role as a DUP adviser after the assembly election in May 2016.
He is now the Community Transport Association's director of policy and public affairs for Northern Ireland.
He said a waitress said if Mr Bell did not wake up, they would have to leave.
Mr Cairns then said Mr Bell woke up, ordered another drink but then fell asleep again and the group was asked to leave.
"Mr Bell was unsteady and had to be helped back to the hotel while he sang the Deep Blue Something hit single "Breakfast at Tiffany's" at full volume," Mr Cairns claimed.
'Hostile'
Mr Cairns said Mr Bell's temper was "well-known" in the party, and claimed he had spoken to two other party colleagues, Emma Little Pengelly and Michelle McIlveen, about allegations of bullying by Mr Bell.
Mr Bell "cornered Ms McIlveen at the party conference and had berated her for some time until she broke down in tears", he also claimed.
On Tuesday, Mr Cairns said no special adviser in the DUP had wanted to work with Mr Bell.
He said he "did not wish to be Jonathan Bell's Spad" and that he felt the decision "defied logic", as he believed it was better for Dr Andrew Crawford - who had been the adviser in that department for a few years - to remain there.
But Dr Crawford went with Arlene Foster when she moved from DETI to Stormont's finance department.
Mr Cairns said he could not have raised any objection to the appointment.
The former DUP Spad will give evidence to the RHI inquiry again on Wednesday.