RHI Inquiry: Five moments you might have missed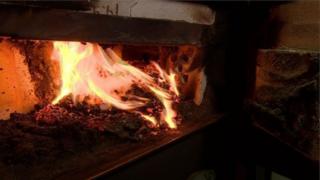 It is fair to say the public inquiry into the Renewable Heat Incentive (RHI) scheme exploded into life last week, when hearings resumed after the summer.
It is examining what went wrong with Northern Ireland's flawed green energy project.
With 90 days of hearings so far, it can be hard to keep up with everything that has emerged.
BBC News NI has picked out five key moments you might have missed over the past fortnight.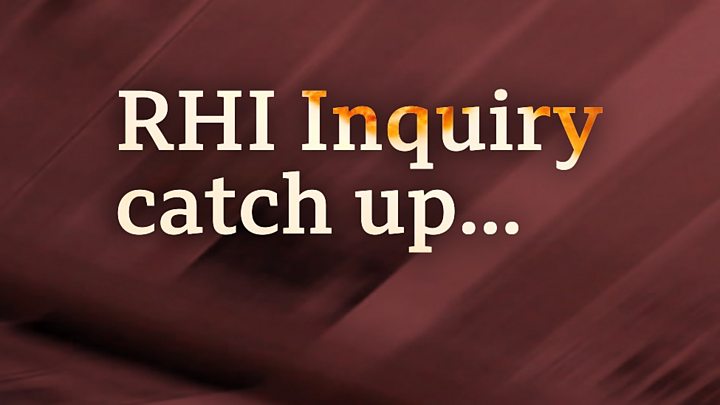 ---
1. Unelected advisers 'took many decisions' - Jonathan Bell
It was no surprise that all eyes were on Jonathan Bell when he appeared before the inquiry for the first time last week.
More than 20 months after the former enterprise minister went public with claims that he'd been stopped from closing the RHI scheme by DUP special advisers (Spads), many were eager to hear what he had to say.
Less than two hours in, Mr Bell was asked about the relationship he had with his special adviser, Timothy Cairns, as both have accused the other of inappropriate behaviour.
He said Mr Cairns had attempted to limit his power over certain matters, including RHI, because he felt "more responsible" to other senior DUP advisers than to the minister.
Inquiry chair Sir Patrick Coghlin pointed out that Spads are not democratically elected, and should not have been taking decisions during devolution.
Mr Bell replied: "On reflection, on many occasions it was the Spads who were taking decisions."
---
2. 'I was monster who needed put to sleep' - Jonathan Bell
Another huge revelation came from Mr Bell during his two-day appearance at the RHI inquiry.
He said that after he went public with his December 2016 claims about who was responsible for keeping the flawed scheme open, the DUP orchestrated a "massive smear campaign" against him.
Mr Bell said inquiry evidence showed his former Spad, Timothy Cairns, indicating to the DUP he was willing to "fit his story" to the party's version of events in order to tarnish Mr Bell.
He also alleged that around that time, a senior figure in the Executive Office was briefing against him as a "monster who had to be put to sleep".
Mr Bell said he could not operate against a party that was actively seeking to discredit and blame him for trying to tell the truth about the failings within the RHI scheme.
---
3. Politics is a 'grubby world' - Timothy Cairns
This sound bite came from Mr Bell's special adviser, Timothy Cairns, when he appeared at the inquiry on Tuesday.
He was pressed over Mr Bell's claim that he helped the DUP to "fit up" the former minister - and conceded that he was prepared to go along with the party's version of events, but denied his involvement amounted to Mr Bell's claims of a "smear campaign".
In December 2016, six months after Mr Cairns lost his job as a Spad, he told the DUP he would go public with his bullying allegations about Mr Bell, but also believed former party leader Peter Robinson failed to deal with allegations against Mr Bell which had been brought to him.
Mr Cairns said he wanted to be critical of Mr Robinson in his account, but he understood the party might not want that to happen, and was prepared to "take the party line" if required.
Sir Patrick said Mr Cairns would have modified his account to protect Mr Robinson, which seemed "a rather unpleasant way to run a party".
"That's politics I'm afraid - it's a grubby world," added Mr Cairns.
Sir Patrick replied that was something of "an understatement".
---
4. DUP adviser was 'top of the tree' - Timothy Cairns
One name that keeps cropping up during inquiry evidence is the man at the top of the DUP food chain - Timothy Johnston.
When the RHI scandal emerged, he was advising then-First Minister Arlene Foster. He's now the party's chief executive.
On Tuesday, Timothy Cairns told the inquiry that in the summer of 2015, Mr Johnston was involved in the decision to delay cost controls, which allowed a massive spike in applications and caused the greatest damage to the public purse.
Mr Cairns said he was told by Mr Johnston to work with another Spad, Andrew Crawford, to find an alternative - Mr Johnston denies any involvement.
Nevertheless, several witnesses have spoken about the extent of Mr Johnston's influence within the party.
Mr Cairns described him as a powerful individual who was "very much at the top of the tree" when it came to decision-making; and said he believed that Mr Johnston running party matters while a Spad was "operating outside of what he was permitted to do".
---
5. DUP tried to 'pin RHI blame on me' - Andrew Crawford
Andrew Crawford made headlines in January 2017, when he resigned as a DUP Spad after being named at an assembly committee as the person responsible for delaying cost controls - a claim he has always denied.
On Thursday, he gave his version of events, alleging the DUP had worked to "pin the blame" on him for the entire debacle.
He was adviser to Arlene Foster in the enterprise department when the RHI scheme was set up several years earlier.
At the height of the media spotlight on RHI in December 2016 and early 2017, a course of action was taken "to put my name out there", he claimed.
Dr Crawford said he didn't blame everyone in the party for the events surrounding his resignation, but felt attempts were made to "distance Timothy Johnston from involvement", while allowing the narrative against him to go unchallenged.
You can keep up-to-date with the latest from the RHI inquiry on BBC News NI's live page.