Gender reassignment surgery increases in Northern Ireland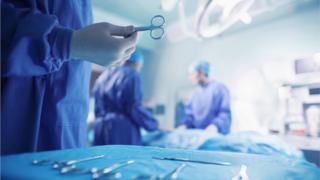 Five times as many people are seeking gender reassignment surgery in Northern Ireland compared to five years ago, BBC News NI has learned.
Gender reassignment surgery changes the physical function and appearance of an individual's sexual characteristics to resemble the other sex.
In 2012/13 there were 10 requests for funding from people based in Northern Ireland to have the surgery.
In 2017/18 the number of requests had increased to 47.
All gender reassignment surgery is currently performed outside Northern Ireland and requests to receive the surgery in other parts of UK are handled by the Health and Social Care Board (HSCB)
A 13-week consultation to adopt a formal commissioning position on the provision of gender reassignment surgery in Northern Ireland was due to commence in June this year.
However, the consultation paper is still awaiting sign-off by the Department of Health.
Northern Ireland has been without a functioning government since January 2017, when a power-sharing deal between the DUP and Sinn Féin collapsed.
Political stalemate at Stormont has been blamed for the delay in a number of government decisions
Last week, the secretary of state proposed bringing forward legislation to allow civil servants in Northern Ireland to make decisions in the absence of devolution.
The delay in the gender reassignment surgery consultation was raised during a hearing of Westminster's Northern Ireland Affairs Committee last week.
Labour MP Kate Hoey asked health officials for examples of high priority decisions that were delayed because of a lack of minister.
In response Dr Miriam McCarthy, director of commissioning at HSCB, raised the delay surrounding the gender reassignment surgery consultation.
The Belfast Health and Social Care Trust provides a Regional Gender Identity Service (RGIS) for all Northern Ireland patients.
RGIS submits patient funding requests to the HSCB, which approves applications for surgery in other parts of the UK.
Figures provided by HSCB show a significant increase in the volume of requests for specialist gender reassignment surgery in Northern Ireland since 2012.
In 2017/18 there were 172 patients actively being treated within the RGIS and 47 individual funding requests for surgical procedures, of which 29 were for new patients.
This compares with 10 funding requests in 2012/13, of which nine related to new patients and 16 funding requests in 2013/14 with 11 new patients.
In preparing the consultation document, the HSCB met with representatives from transgender advocacy and support groups.
It found that there was a strong view from some participants that officials should seek to provide surgery on the island of Ireland, in partnership with the Department of Health in the Republic of Ireland.
A spokesperson for HSCB said: "A paper, prepared by the HSC Board and Public Health Agency, sets out proposals for the specific surgery to be routinely commissioned as part of gender reassignment.
"This paper has been forwarded to the Department of Health for consideration in regard to the requirement for the paper to issue for public consultation and the timing of that consultation."
A spokesperson for the Department of Health said the paper is still under consideration.